St Athan and Cawdor may be affected by defence shake-up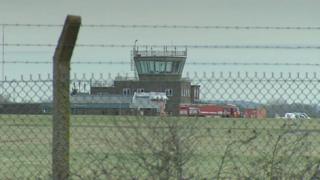 The fate of two military bases in Wales is expected to become more clear after an announcement by Defence Secretary Philip Hammond later on Tuesday.
There is uncertainty over the future of Cawdor Barracks in Pembrokeshire, which houses 14th Signal Regiment, who are experts in electronic warfare.
But there are hopes that St Athan in the Vale of Glamorgan could become home to more troops.
Last summer two Royal Welsh battalions were merged under defence cuts.
The latest round of defence comes as thousands of troops are expected to return from Germany during the next few years.
Ministers say it is a good time to review where they are based across the UK.
Tuesday's announcement could have a major impact on 14th Signal Regiment, based near St David's.
There is speculation that its soldiers could move closer to its regimental headquarters in Dorset.
In October 2010, St Athan lost out when a proposed £14bn defence training academy which would have created 2,000 jobs in the Vale of Glamorgan was scrapped.
'Seeking long-term security'
The project at St Athan was axed as the UK government announced cuts of up to 8% in the defence budget.
Rear Admiral Chris Parry, a former Nato commander and former director general at the Ministry of Defence, told BBC Radio Wales he was hopeful Cawdor will continue.
He said that by and large, the "infantry brigades that exist today in the regions, I think will continue, and for Wales... they have an infantry brigade and I think some of the specialist troops like Signals... the one at Cawdor Barracks, I'm hopeful that that will continue".
He added: "I would say that studies about St Athan are probably still on the ground and the government will go for the most efficient solution."
Alun Cairns, Conservative MP for the Vale of Glamorgan, said there had been a "difficult past" at St Athan, and he had been "seeking long-term security for the site".
He said Tuesday's announcement was an "opportunity to provide further expansion," but nobody knew what the minister was going to say.
He said there had been significant investment at St Athan, with a special forces support group, but he believes that "Wales deserves a larger slice of the MoD cake".