Wrexham ambulance queue: One patient's 'crazy' story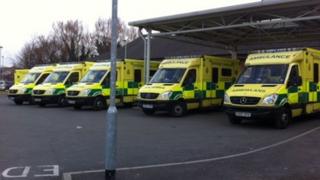 The day after a health board apologised for ambulances queuing outside a hospital, BBC Wales' Sarah Easedale reports on what it was like for her and her mother as they were caught up in the delay. Betsi Cadwaladr University Health Board (BCUHB) blamed an increase in patient numbers and A&E attendances.
My mother was sent to hospital by her GP after results of an X-ray showed that the weeks of back pain she has been suffering were due to a fracture in her spine.
He wanted her to have an MRI scan and an orthopaedic bed at the Wrexham Maelor Hospital.
Naturally, she had to have an ambulance because she is not mobile and had to be lying flat.
The ambulance was two hours late collecting her and the crew explained there were ambulances queuing at the hospital, which was delaying their pick-ups.
We arrived at the hospital at 4.45pm to see seven ambulances waiting to admit patients. At its peak, nine ambulances were queuing.
At 10.15 - more than five hours after arriving at hospital - my mother was admitted.
Admittedly, my mother was not an emergency case, but nevertheless during her long wait she was unable to go to the toilet and was getting increasingly tired and fed-up.
The ambulance crew, which was fantastic, brought my mother a sandwich, yoghurt and drinks and continued monitoring her throughout.
But it was clear they were unbearably frustrated with the situation.
They told us they regularly had to wait up to two hours, even three, but this was particularly bad. I was shocked they had ever waited two hours.
The bed that had been organised for my mother was waiting for her in the hospital, but she was on a trolley in an ambulance outside. It was a crazy situation.
Our ambulance crew was due to end a 12-hour day at 8pm but could not finish until my mother was admitted more than two hours later.
It had a knock-on effect for staffing ambulances the following day, too. Instead of starting at 8am the next day, staff told me they would have to start at 10pm because they need 11 hours between shifts.
These paramedics were clearly frustrated at sitting in ambulances all day and unavailable to attend any other calls.
On Monday a Betsi Cadwaladr health board spokesperson said: "Over the last few weeks there has been a significant increase in the number of seriously ill patients being admitted to hospital, which has put increased pressure on beds as patients have needed longer stays in hospital than normal.
"Emergency pressures do fluctuate during the day, and from day-to-day, and the A&E department at Wrexham Maelor Hospital is also currently experiencing a high level of attendances."
The spokesperson said the health board was working with the Welsh Ambulance Service and GPs to reduce admissions and to minimise delays at the A&E department whenever possible.
Extra beds had been opened and additional staff brought in, the spokesperson added.
"Despite this some people have had to wait for care and treatment and we are sorry we have not been able to see them as quickly as usual."
The spokesperson said that planned changes to community services, such as "home enhanced care" will provide alternatives to hospital admission in the future.