Mentor shortage hampering new teachers, warns teaching council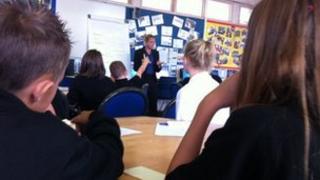 New teachers are not being supported in Wales because of a delay in implementing a mentor scheme, a professional standards body has warned.
The General Teaching Council for Wales (GTCW) has complained that mentors have still not been appointed almost six months into the school year.
A centralised pool of advisers was set up last September.
The Welsh government said mentors were currently being recruited and assigned.
Previously, individual schools received funding from the Welsh government to appoint their own mentors for helping newly qualified teachers (NQTs) but this was scrapped in September 2012.
A pool of specialist regional mentors was established which would provide support across a number of different schools, with the aim to bring nationwide consistency.
Following concerns from the GTCW that the Welsh government was struggling to recruit the 70 mentors needed and more will be required in the future, chairperson Angela Jardine wrote to Education Minister Leighton Andrews.
She said: "At present, many NQTs are only receiving mentoring through the goodwill of head teachers who are somehow managing to free up some resources from their already stretched budgets to support them, but that doesn't apply across the board and certainly isn't a solution.
"In the short term, schools should be funded for the support they have already shown in providing school-based mentors for their NQTs this year.
"We need to invest in increasing the number of experienced teachers in the system so there are enough available to supply the regional pools of mentors.
'Guardians of the profession'
"The Welsh government must act quickly to protect the interests of hundreds of new teachers undergoing their crucial induction year."
Council member Sion Amlyn, a science teacher at Ysgol Eifionydd, Porthmadog, Gwynedd, said: "We are talking about the future of the profession here and we are the guardians of the profession, so we have to make a public statement."
Helen O'Sullivan, head teacher at Tonypandy Community School in Rhondda Cynon Taf, said: "We may see an increased rate of young teachers dropping out as a result of lack of support."
A Welsh government spokesman said: "This school-based mentor support starts when an NQT takes up their post in a school and continues throughout the induction period.
"We are currently recruiting and matching these mentors ready for their deployment in line with our induction guidance. All the mentors have been selected using a rigorous process to ensure they are up to date with current practice and have the skills to support an NQT."
He said recruitment of external mentors would continue on a rolling basis to ensure there were sufficient external mentors.