M4 and Severn toll problems damage Welsh economy, say MPs
6 March 2013

From the section

Wales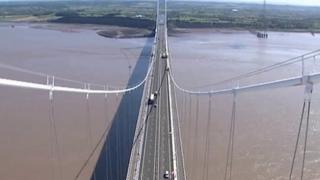 The M4 motorway has suffered from under-investment and congestion for too long which is damaging the Welsh economy, according to MPs.
Members of the Commons Welsh Affairs Committee also say high tolls on the Severn bridges are deterring inward investment.
MPs are calling on the UK and Welsh governments to find funding solutions.
The Welsh government said it will study the report and discuss its findings with the UK government.
The committee says plans for the HS2 high speed rail link in England could also have a negative effect on the Welsh economy.
However, it highlights an example of joint working between the two governments to secure improvements to strategic cross-border routes, with £2bn in rail investment on the electrification of the Great Western main line and a proposed new rail link to Heathrow Airport.
The report calls the M4 a key strategic road for Wales and the UK more broadly, and essential for the Welsh economy.
Committee chairman David Davies, the Conservative MP for Monmouth, said: "We welcome the government's decision to extend the electrification of the Great Western main line from Cardiff to Swansea, and to electrify the Valley lines into Cardiff.
'Essential improvements'
"These are both issues that we have pursued with vigour in recent years and it is good to see these improvements that will benefit passengers and increase economic and employment opportunities throughout Wales.
"However, it is disappointing that Wales has so far been excluded from plans for the high speed rail network developing across the UK.
"We have long warned of the damage that is done to the Welsh economy by the high toll on the Severn crossings, and if anything that situation is worsening.
"It is a huge disappointment that the crossings have accumulated a huge and apparently unforeseen debt which now risks delaying the badly needed reduction in toll levels.
"The M4 route into Wales more generally has suffered from under-investment for far too long and the two governments must urgently find the funding for the essential improvements that we need on this key strategic road."
A Welsh government spokesperson said: "We will study the report carefully and discuss the issues it raises with the UK government.
"We hope that the committee's findings will encourage the UK government to come to an early agreement with us on a funding package to address capacity issues along the M4.
"Reaching an agreement on funding would build on the positive joint working that secured electrification of the Great Western main line from Cardiff to Swansea and of the valleys lines last year."
A Department for Transport spokesman said it recognised the importance of the M4 to the Welsh economy and that the government was working with the Welsh government to explore funding options for improving the motorway.
He added: "The Department for Transport meets regularly with the Welsh government and has discussed the future of the crossing on a number of occasions these conversations will continue".