Plan for social networking site access in Wales schools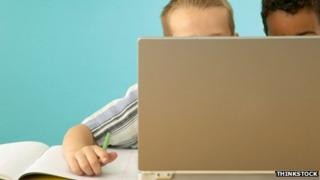 Pupils are to be given supervised access to social networking websites in schools under new plans from the education minister.
Leighton Andrews says he would rather pupils were taught how to stay safe online than use the sites in secret or unsupervised.
A head teachers union warned the plans were "not helpful".
In 2006 councils in Wales were told to ensure social networking sites, such as Facebook, were blocked in schools.
The Welsh government will now ask councils to take a more positive view of such sites.
"Social networking sites have become integral to the day-to-day use of the internet, our young people know all about them and more importantly they want to use them," said Mr Andrews.
"Rather than them doing this in secret or in an unsupervised environment I'd prefer we teach them about how to stay safe online and how to make the most of the web in school.
"To help children and young people develop the skills and knowledge they need to become confident digital citizens, we need to teach them how to use the internet safely under supervision and independently.
"We will now work with local authorities in the coming months to find the best ways of implementing this new approach which we believe will champion a culture of safe and responsible digital citizenship in Wales."
However Anna Brychan, director of head teachers' union NAHT Cymru, warned that her members were concerned about the practical difficulties involved with the proposals, despite their "great eagerness to make maximum use of new technologies in education".
"Secondary schools in particular are worried that the supervision required to ensure pupils' safety will be difficult in practice where a single teacher would be responsible for supervising 30 pupils. That's a big ask," she said.
"We know pupils use these sites - they are quicker and more savvy than most adults using them.
"They need to know how to use the internet safely and schools can certainly teach them about that.
"What they will struggle to do is make sure that every individual child in every school is actually making safe use of these sites while at school.
"We have examples of pupils becoming involved in arguments with each other at school, arguments that are stoked and encouraged on networking sites by people outside the school. This is not helpful."