Superfast broadband cash agreed for west Wales and valleys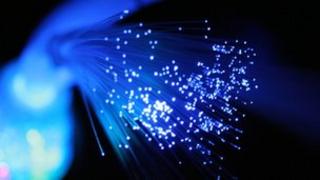 The European Commission has confirmed it is investing £90m to bring superfast broadband to west Wales and the valleys.
It is part of a £425m project to upgrade the Welsh network for 96% of properties by 2015.
Areas in need of an "economic boost" will see a significant improvement in speed, said the commission.
The Welsh government is spending £58m, with a similar amount coming as a result of UK government.
About half of the Superfast Cymru project, which will lay fibre optic cables across tens of thousands of miles, will be paid for by the public sector.
'Seize opportunities'
The European investment comes through a programme called West Wales and the Valleys ERDF Convergence which runs west from Denbighshire to Anglesey in the north to Pembrokeshire and Caerphilly in the south.
"Projects like this will have huge benefits for businesses and citizens," said Johannes Hahn, European Commissioner for regional policy.
"This initiative in particular will allow Wales to seize the opportunities offered by the digital economy.
"Providing fast and reliable access to the internet will play a vital role in helping regions in their economic development."
The agreement unveiled by First Minister Carwyn Jones last July had been dependent on the commission's approval of state aid for the project.
Download speeds of up to 80 megabits per second (Mbps) will be offered, compared to the average download speed currently available in Wales of about five to six Mbps.
Even faster connections of up to 330Mbps will be available to businesses who want it in some parts of Wales.