Benefit claimants need to get online, Welsh minister warns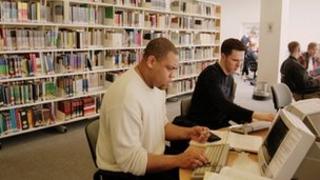 Benefit claimants need help to be given online access or risk losing out financially, a Welsh minister warns.
Claimants will need computer access to demonstrate they are looking for work or face cuts in benefits but some say it is a luxury they cannot afford.
Millions of pounds of Welsh government and European Union money is being spent trying to help people to use the internet in local libraries.
Equalities minister Jane Hutt says the UK government should commit more funds.
The Welsh government is spending nearly £2m a year on a six year long programme to combat digital exclusion. Called Communities 2.0, the programme is also funded by £10m of European money.
Ms Hutt said: "We have got to get everyone online and we have got to get the message to the UK government that resources have got to be put into helping people to get online.
"We are putting resources into that to help them against a really tough time."
The UK Department for Work and Pensions said the majority of people claiming benefits use the internet already but support will be given to anyone without IT skills or access to a computer.
Blaenau Gwent has the largest proportion of people in Wales who, for a number of reasons, do not use the internet.
Unemployed chef Kenneth Power visits Tredegar library every day to use its computers to look for jobs online.
"I've got a computer in the house but we can't afford to run that at the moment," said Mr Power who has been out of work for 18 months.
"A computer is a luxury."
Susan Jones has learned to use the internet at Tredegar library.
She is out of work and used to clean offices but her arthritis now makes that impossible.
At the moment she gets Employment Support Allowance which is one of the benefits being affected by the introduction of a new benefit called Universal Credit that will be administered online.
"I was very worried," she said.
"I didn't know how to get online but now I can get into it myself."
Local councillor Hayden Trollope says the council is worried about how many people could lose out financially, especially those with disabilities.
"This is going to hit the hardest hit people even more," he said.
More benefits reforms come into force later this year with Universal Credit which puts all benefits into one credit paid directly to claimants' bank account on a monthly basis.