The Alarm's pop hoax film Vinyl premieres in London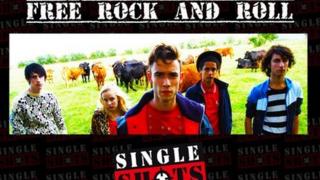 The red carpet is being rolled out in London's Leicester Square for the premiere of a film exposing ageism in the music industry.
Vinyl was the idea of Mike Peters of Rhyl band The Alarm, and based on his real-life hoax on the industry.
When they stopped getting airplay because DJs wanted younger artists, The Alarm secretly recorded a punk track and created a fake band to front it.
Filmed across north Wales, the movie stars Keith Allen and Phil Daniels.
It is based around the events that became a media storm when Peters' hoax was revealed.
Daniels has something of a record in rock music, having starred in the 1979 film of The Who's Quadrophenia, and appearing as guest vocalist on Blur's Parklife.
He plays Johnny Jones, a has-been frontman of Weapons of Happiness, a hit 80s band he brings together again. But the record company does not want to know, which is where the lip-synching teenagers come in.
Peters, best known for the hits 68 Guns and Rain in The Summertime, said: "Principally, I'd say it's about never giving up, it's about dreaming that no matter what you are being told, life can get better and that a risk is sometimes worth taking."
The film touches on Peters' personal battle with cancer and his wife's struggle to have children.
He said: "It does deal with subjects that not only my wife Jules and I have had to endure, but it deals with issues that will resonate with people of all walks of life both young and old."
When The Alarm stopped having their music played on the radio, Peters set out to discover what would happen if the music world believed his creations were actually the work of fresh-faced youths.
Assisted by teenagers from Chester, the result was a fake group called The Poppyfields who released a song called 45 RPM.
The single reached the charts and was compared by the music press to punk icons the Sex Pistols and Clash. But Peters exposed the hoax live on BBC Radio 1.
He said: "There's an Alarm song called Spirit of '76 with the lyric, 'If a man can't change the world these days, I still believe a man can change his own destiny'.
"This is what The Alarm has always sung about. Making a change for yourself, to stand tall against the odds.
"Exposing the story to the media wasn't about a victory as such, but it was about vindication and proving that even though you have been knocked down you can still stand up again.
'Unique bond'
"I thought the even bigger story was that we followed up 45 RPM with a bona fide hit in our own Alarm right when we charted with Superchannel, which got to 28 in 2006."
In Vinyl, Jones hires a group of teenagers to mime to his new material, in a bid to appeal to a younger audience.
The film, produced and co-written by Sara Sugarman, from Rhyl, follows Jones' attempts to keep the fake band a secret.
Peters was pleased Daniels signed up to the film because he was the inspiration for the main character.
"As a fan of Phil Daniels' work, I was so thrilled and to be then told that Keith Allen was on board too to play Minto, it seemed like the perfect storm was coming together.
"As the music producer, I encouraged the actors to record the song as a band before any acting took place, and I think the process really helped to bring them together and form that unique bond that is present in all great bands.
"It's all there - the bickering, the humour and in amongst the bitterness there is also an honesty and a genuine affection for each other that only living the rock and roll dream can produce."
North Wales filming locations included Rhuddlan Castle, Snowdon, a waterfall at Dyserth and Ysbyty Glan Clwyd.
Vinyl premieres on Tuesday at The Empire Theatre in Leicester Square, London, and opens in cinemas across Wales on Friday.