Rail electrification: Hope for jobs in south Wales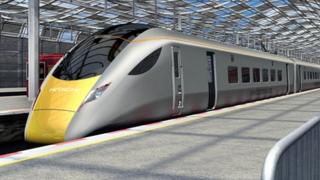 Firms working on the biggest investment in Welsh railways since the Victorian era will be encouraged to employ local labour, say project managers.
Hundreds of jobs will be created during construction on the Welsh phase of the £850m project to electrify the line between London and Swansea.
Network Rail says more jobs will be created once work has finished by 2018.
The company has promised to keep disruption to a minimum but bridge work will cause problems for motorists.
In an interview with BBC Wales, Network Rail route managing director for Wales Mark Langman said: "During the construction, it brings jobs. We will be looking to employ local labour.
"We have got to have the best people for the job but we will encourage contractors' bids to make the most of local resources and give people the skills they will need to take on for other roles."
He said the number of jobs being created across the whole supply chain during construction was "well into the hundreds".
"We have worked out how many people we need to maintain it [after construction] and that's around 120."
A maintenance depot will also be built in Swansea for the new trains that are to be used on the route.
Mr Langman said one issue was a lack of expertise locally about electrification because no such lines had previously been built in Wales.
Network Rail says modernising the line between south Wales and London will cut 20 minutes off the three-hour journey.
And the firm said electric trains powered by overhead cables were cheaper to run than diesels because of lower fuel and maintenance costs.
The Cardiff and valleys network will also be electrified at a cost of £350m, but the project is at a less advanced stage. It is scheduled for completion in the early part of 2019 to 2024.
Construction work has already started on the London to south Wales line at the eastern end of the scheme.
The first phase is from London to Newbury/Didcot area; the second to Bristol Temple Meads; the third will go to Cardiff; and the final phase is to Swansea.
Construction work will not start in Wales until 2015 and much of the work will be carried out at night.
"We're motivated by keeping disruption to a minimum as far as possible," said Mr Langman.
"I liken it to the equivalent of flying an aircraft and changing wings at the same time.
"If there's a diversion it might be the weekend when that happens.
"Disruption may be less than people think [but] I wouldn't say disruption-free.
"It's probably likely that the work that would affect the railway would mostly be done when the trains aren't running."
Overhead wires
The Severn Tunnel, which celebrated its 125th anniversary in 2011, may prove less of a challenge than feared because early investigations suggest there is enough room for electricity masts.
However, one of the two sets of tunnels near Newport station is not high enough for the overhead wires so the floor is likely to be lowered.
Mr Langman said another issue was the Bridge Street road bridge near Newport station which needed to be replaced or raised in a process taking six months.
A so-called factory train has been ordered from Germany which will be used to erect the masts and overhead wires along the route.
"It moves along at walking pace during the night when no trains are running," said Mr Langman.
"It puts a pile into the ground and it will then do a second pass and put a mast in on top of the pile," he said.
"Then it will do another pass and then string up the wires."
Mr Langman said when the route was complete by 2018, services in Wales would finally be comparable with other European countries.
"For Wales as a country, we're playing catch up," said Mr Langman.
"In the European league table of electrified countries, we're down there at the bottom with Albania.
"It's about the case for encouraging inward investment," he added.