Llanover Estate will not bill Ochran Mill couple over garden gravelling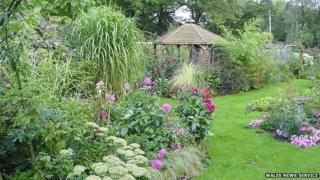 A couple who feared they would have to pay £5,000 to gravel over an acclaimed garden at their rented home will not have to foot the bill, it has emerged.
Elaine and David Rolfe had to move and leave behind their £20,000 garden in Monmouthshire after Mr Rolfe was diagnosed with terminal cancer.
They said they were told to pull up the garden on the Llanover Estate near Abergavenny or pay to gravel it.
But the private estate said it will not be charging the couple for the work.
Mrs Rolfe said the estate owners had told her that the garden - which had featured on a TV show and in gardening magazines - would be "too much" for new tenants at the 17th century water mill, Ochran Mill.
So she had set about organising friends and staff from Bristol Zoo to take cuttings of the flowers, some of them rare, before bulldozers moved in - all while she tended to her sick husband.
She said the task was "heart breaking", "upsetting" and "stressful" after 11 years of creating the garden.
Now, Llanover Estate said that the couple will not be charged for any work to return it to rough pasture.
"Elaine and David are very valued members of our community and we have enormous sympathy for them and their family at this very difficult time," a spokeswoman said.
"Sadly, they decided to leave their house on the Llanover Estate because of David's serious illness.
"We intend to re-let the property and the garden, which has now unfortunately somewhat deteriorated and needs to be tidied up, however, we have decided that this will not be at the expense of David and Elaine.
"Absolutely no charge will be made to David and Elaine for this work and we have informed them of this decision.
"Moreover, Elaine and her friends are free to come to take any cuttings or plants that they want and we are very grateful for the work they have already done in removing plants."