Bloodhound: Ready for tests by autumn, says design team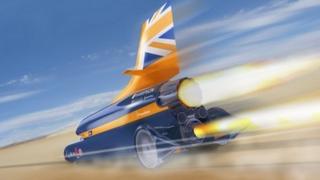 Work on a car capable of driving beyond 1,000mph is on track to finish in the autumn, says one of its designers.
Swansea University engineering lecturer Dr Ben Evans said the £12m Bloodhound SSC should be ready for "low speed" tests - up to 300mph - in November.
The car will be Britain's next assault on the land speed record, aiming to smash through the sound barrier with a fighter jet engine boosted by a rocket.
Dr Evans said his team had spent five years on the car's aerodynamic shape.
Bloodhound, currently under construction in Bristol, is around one-third complete, said Dr Evans, a member of the car's design team since its inception in 2007.
The vehicle is based around a Eurofighter-Typhoon jet engine - the Ministry of Defence has lent the project three - to take it to the edge of the sound barrier.
The team has designed a rocket - a hybrid of solid-and-liquid propellants - which they hope will deliver the extra power needed to reach four-figure speeds.
Swansea University is one the project's main sponsors and its contribution is the design of the vehicle's aerodynamic shape, arrived at using research called computational fluid dynamics (CFD).
Dr Evans said the challenge was to ensure Bloodhound would remain on the ground despite the "enormous" forces on it as it hits and goes beyond the sound barrier.
He said: "The big part is understanding where the shock waves will form on the car and what they will do to the car and the surface the car is running on.
"We're convinced that the design we're building is safe and is going to keep the car pinned to the ground even at these high speeds.
"Until now, we've been doing everything in a virtual world. Now the project is becoming real, we can start to determine whether we got our numbers right.
"At the moment, everything that the computer is telling us is that everything it okay and it's safe.
"But taking something from the virtual world to the real world has levels of uncertainty attached."
An even more immediate challenge will be finding sponsors to ensure a 40-strong team can take the project to South Africa in 2014 to begin its challenge on the world land speed record, he said.
Dr Evans said: "There is enough interest from the public and from industry. There are lots of big companies that are learning from us.
"I'm confident that when we get to the point that there's a 1,000mph car ready to run, there will be sponsors."
If it achieves 1,000mph, Bloodhound will surpass the World Land Speed Record set by the British-built Thrust SuperSonic Car in 1997 (763mph; 1,228km/h).
Three people who worked on Thrust are also engaged in the Bloodhound project, including the driver - Andy Green.