Bovine TB in Wales 'out of control' claims farming union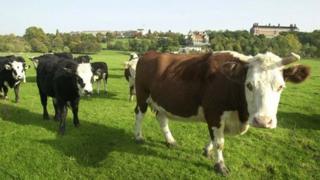 A farming union claims a 15% rise in the number of cows in Wales slaughtered due to bovine TB shows the disease is "out of control" in the countryside.
The National Farmers' Union (NFU) said it was a "wake up call" which supported their call for a targeted badger cull.
Welsh Conservatives said ministers had ruled out badger culling "for political rather than scientific reasons".
The Welsh government said the cattle slaughter figures were disappointing, but had fallen from a peak in 2009.
The NFU comments come after Defra - the UK's Department for Environment, Food and Rural Affairs - released figures showing the increase in cattle slaughtered because of TB in Wales compared to 2011.
A total of 9,307 cows were culled in Wales in 2012.
The farmers union said the figure meant Wales has seen the figure rise 22%, more a fifth, since 2010, despite farmers "adhering to strict cattle controls".
NFU Cymru deputy president Stephen James said the figures should be a "wake up call" for the Welsh government that tackling the disease with cattle-only measures was not enough.
He said: "These figures show that a policy that fails to adequately tackle and remove the disease from the wildlife population will never get on top and ultimately eradicate this disease from our countryside, instead the disease continues to escalate.
"This has to a wakeup call to Welsh government and highlights the urgent need to implement a science-led policy of badger control in endemic areas of the country rather than the Welsh government's vaccination policy based on conjecture."
The Welsh Conservatives' rural affairs spokesman Antoinette Sandbach AM said the Welsh government trial vaccination programme "remains a costly gamble".
'Wildlife infection'
She said: "Culling is the only proven method to tackle the reservoir of wildlife infection, yet badger culling has been ruled out by Labour ministers for political rather than scientific reasons.
"In Wales, the increase in the number of cattle culled due to TB is 15% - more than double the increase in England.
"This significant increase in cattle culling only reinforces the need for the Welsh government to get to grips with TB."
The NFU said more than 48,000 cattle have been culled in Wales in the past five years, with only 1,046 being culled in 1998.
The Welsh government said it remained committed to tackling bovine TB.
‪"These figures are disappointing but do still reflect a significant reduction against the 2008/2009 peak in the number of cattle slaughtered in Wales as a result of bovine TB," said a spokesperson.
"We remain committed to tackling bovine TB given its impact on farmers and rural communities.
"However we know there is no quick fix to tackling this disease.
"It demands a sustainable and long term approach that includes a range of different measures including strict bio security controls and cattle movement restrictions."
The spokesperson said the Welsh government was continuing with its "comprehensive" bovine TB eradication programme, which tackled all sources of infection.