Pope Francis: Religious leaders in Wales welcome election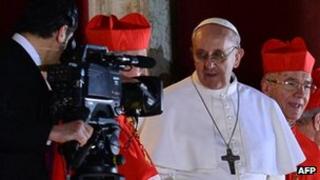 The election of Jorge Bergoglio, the Archbishop of Buenos Aires, as the new Pope has been welcomed by religious leaders in Wales.
The Most Reverend George Stack, the Catholic Archbishop of Cardiff, said the pontiff was "virtually unknown", but he looked to the future with hope.
The Anglican Archbishop of Wales Barry Morgan wished Pope Francis the best for his future ministry.
The 76-year old Argentinian is the first pontiff from Latin America.
He was elected on the fifth ballot on Wednesday in the papal conclave in Rome, and his election follows the retirement of Pope Benedict XVI last month.
Asked on BBC Radio Wales if Pope Francis was his first choice, Archbishop Stack replied: "Everybody was surprised at this election of, in our terms, virtually unknown person.
"But gradually you find out that he's a person with a great track record as it were, and a great knowledge of the life of the church, not just in Latin America but worldwide."
In an earlier statement, the archbishop said he welcomed the election of the Argentinian cardinal, saying: "He can be assured of the prayers of the whole Archdiocese of Cardiff.
"The election of a new Pope is always a new beginning and I look to the future with hope and confidence.
"Seeing the crowds in St Peter's Square on Wednesday evening, who could fail to be struck by the global nature of the church and its universal mission."
The Archbishop of Wales also welcomed the new Pope on behalf of the Anglican Church in Wales.
"We welcome and assure Pope Francis of our prayers and our best wishes for his future ministry," said Dr Morgan.
"We hope he will bring an ecumenical perspective to the role, a desire to work with Christians of all traditions and a goodwill to people of all faiths."