Filming of binge drinkers in Cardiff allowed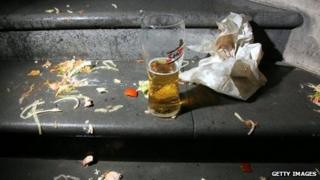 Plans to film binge drinkers and show them footage of their drunken behaviour to help them change their ways will go ahead after concerns were addressed.
Revellers will be filmed inside Cardiff city centre's alcohol treatment centre by staff wearing small cameras.
They will later be given the option of viewing the footage before it is deleted in front of them.
The plan had been put on hold after the Welsh government raised concerns over patient confidentiality and consent.
But the Welsh government said "the necessary additional information" had now been provided.
Emergency nurse practitioner Wayne Parsons said the premise was to educate people rather than preach to them.
"Each individual has the option to view it. If they do or don't, it's deleted in front of them - there's no footage at the end of the night," he said.
"If they ask 'what state was I in', we can actually show them now.
"I think it's educational and will help."
The cameras are part of the alcohol treatment centre on Charles Street which has been up and running since September.
Revellers aged 18 or over who need medical treatment are taken to the centre to help ease pressure on A&E beds and ambulances at the University Hospital of Wales in the city.
The centre - led by Cardiff and Vale health board but in partnership with bodies such as South Wales Police, Cardiff council and others - is open on Friday and Saturday nights but can open at other times if required.
It has been considered a success and organisers hope to secure funding for the next three years.
Mr Parsons said the thinking behind the cameras was positive health intervention rather than anything intrusive.
'Intoxicated patients'
"The whole premise is trying to talk to someone and educate them about the dangers if they carry on what they're doing," he said.
"We see it as an opportunity.
"We've got this treatment centre for intoxicated patients [and we will] play it back to those that agree."
He said if it benefited one person out of every 100 brought in, it was was worth it.
Filming did take place for a few weeks when the centre opened before being dropped, and staff said it had proved successful.
The Welsh government said it received a request to approve funding for an alcohol treatment centre in Cardiff in October last year, including the use of body cameras to film people.
"Keen to allow the pilot scheme to go ahead, we asked the filming element be postponed until we were satisfied all elements of patient confidentiality and appropriately secured individual consent from those being treated at the centre had been fully explored," said a Welsh government spokesperson.
The additional information has now been provided and filming of patients could now happen as early as next weekend.
A survey by Alcohol Concern Cymru claimed that up to 20% of the adult Welsh population admit to binge-drinking - that is drinking more than eight units in a session for men, and six units for women.