Deeside incinerator plan goes on public display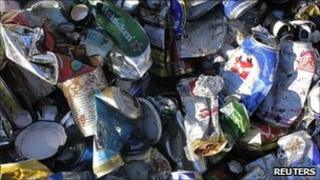 Drop-in sessions have been organised so that residents can learn more about a planned waste incinerator in Deeside.
The plant would take waste left over after recycling and composting from five local authorities in north Wales.
Experts will be on hand on Friday and Saturday to speak to residents about any issues such as transport and emissions.
A preferred bidder for the 25-year contract, worth about £800m, should be chosen by the end of the year.
The Deeside site was identified as a suitable location following assessment of all potential sites across north Wales.
Steffan Owen from the project said it was important that local people go along to find out about the project and have any questions answered.
"We want them to see what's being offered and we can explain what the impact will be on things like transport," said Mr Owen.
He said a company called Wheelabrator Technologies Incorporated had been short-listed as a preferred bidder but the decision would have to be backed by the five councils involved.
"We hope this process will be completed by the end of the year and then the planning application can go ahead," he added.
The drop-in session will be at Connah's Quay Town Council offices at Quay Buildings, Fron Road, Connah's Quay, Flintshire, CH5 4PJ from 14:00-20:00 GMT on Friday and 10:00-16:00 GMT on Saturday.