University Hospital, Cardiff: Pressure delays A&E upgrade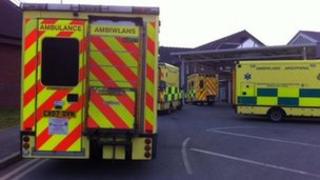 More than £3m of improvements to the emergency unit at Wales' largest hospital have been postponed because of exceptional demand on the service.
Work was due to start next Monday on a new unit at the University Hospital of Wales, Cardiff, and to double the number of resuscitation bays.
But it has been put back to May to avoid disruption as A&E departments across Wales treat record numbers.
The UHW unit has been coping with an increase in demand of up to 25%.
The department assesses, treats and resuscitates patients who have been injured or are severely ill, with many brought in by ambulance.
The £3.4m investment will increase the number of resuscitation bays from three to seven, create a rapid assessment and treatment unit and an extended area for the ongoing assessment of patients.
It will also provide a better environment for patients, offering greater confidentiality and privacy, and create a safer and more practical base for staff.
But it has been decided to put the building work back as the unit deals with the large increase in emergency patients it has seen in recent weeks.
Paul Hollard, the director of planning for Cardiff and Vale University Health Board, said patient safety was its primary concern.
"The exceptional pressures on the emergency unit at UHW, and those across Wales, have been well documented and it would not be right to proceed with the work when there is such a high demand," he added.
About 130,000 people attend the unit each year and the health board said that when the work does start, it hoped that it would not affect patients.
Operations cancelled
Bob Tooby, head of service for the Cardiff and Vale area of the Welsh Ambulance Service (WAS), said it would work with the health board to ensure that patients remain the priority.
"This is done not only to support the ultimate improvements but to also ensure that the refurbishment does not compromise patient safety whilst it is underway," he said.
"It has been essential that all phases of the building work can be achieved with the minimum disruption or delays to normal business.
"Both the university health board and WAS will do everything possible to alleviate any delays or disruption for our patients and will continue to meet regularly at all levels to address any issues."
Earlier this week it emerged that hospital A&E units around Wales were struggling to cope with "unprecedented" pressure because of record-breaking admissions.
Some routine operations were cancelled and ambulances faced delays handing patients over to hospitals.
The College of Emergency Medicine told BBC Wales all emergency departments were seeing a steady increase in seriously ill elderly patients.
It said the situation had been compounded by the "worst access block" many of its members had experienced, with reduced bed numbers and staffing levels.