£4m wound research 'will save NHS cash,' Prof Harding says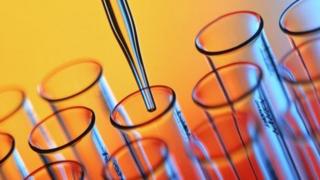 Finding new ways to treat wounds and supplying the equipment to do it will help "heal" the budget of Wales' NHS, says the head of a £4m research centre.
The Welsh Wound Innovation Centre aims to research new treatments and bring on life-science start-up firms.
It is backed with money from the Welsh government as well as Wales' seven local health boards (LHBs).
Lead researcher Prof Keith Harding said: "We're confident we can save the NHS money."
Wound healing has been identified as a "niche speciality" in the Welsh government's £100m fund to boost hi-tech medical and pharmaceutical companies in Wales.
Based at a Welsh government-owned building in Llantrisant, Rhondda Cynon Taf, the centre will be an arms-length subsidiary company of the Aneurin Bevan Health Board, acting on behalf of all seven LHBs.
The aim is that it will attract research grants and private investment that will create 31 jobs initially but up to 45 more over the next five years.
Prof Harding, of Cardiff University, described wounds as a "silent epidemic" that were a "growing burden to our healthcare resources".
His pioneering work saw him made a CBE in the New Year honours list for leading the way in using maggots in medicine.
He said: "For a variety of reasons, Wales has a particular focus on wounds.
"On the global level, it is one of the biggest research groups offering a very sophisticated model of providing care to patients.
"Wales can legitimately claim it is leading the world in common, neglected, clinical problem."
Prof Harding said treating wounds takes up around 5% of the NHS's budget compared, with some wounds such as those derived from diabetes accounting for up to 70% of non-traumatic amputation.
He said: "That investment consumes huge amounts of money and block beds."
He said the research would work across the range of wounds clinicians treat from trauma, burns and post-surgery complications to chronic conditions such as ulcers and diabetes complications.
Policymakers and NHS chiefs has invested in the project because they could see the potential for savings in the long-term, he said.
"There is so much opportunity to save money in areas that have not had the focus of that in the past."
Science Minister Edwina Hart announced the creation of the centre when she addressed the BioWales 2013 conference on the future of healthcare on Tuesday.