WWF Earth Hour: Welsh landmarks plunged into darkness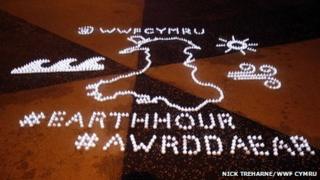 Some of Wales' landmarks were plunged into darkness for an hour on Saturday as part of the World Wildlife Fund's (WWF) Earth Hour.
The Senedd, the National Library of Wales in Aberystwyth, and Venue Cymru in Llandudno took part in the worldwide event at 20:30 GMT.
The annual Earth Hour event aims to send a symbolic message about the need to protect the planet.
Two hundred Welsh schools were also involved in this year's project.
Thirteen councils were taking part, while 18 assembly members attended an event in the Senedd to mark the 60 minutes of darkness.
Meanwhile, individuals and families in Wales joined millions around the world by switching off their lights at home.
Last year, landmarks from Big Ben in London to the India Gate in New Delhi, and the Sydney Opera House took part.
More than 150 countries were taking part this year.
Poets and artists in Wales inspired people to have fun during the hour of darkness.
Welsh artist Pete Fowler, best known for creating album covers for the Super Furry Animals, came up with a poster urging people to live a life less electrical, as part of a collection released by environmental charity Do The Green Thing in the run up to Earth Hour.
Head of WWF Cymru Anne Meikle said: "Earth Hour is a simple idea that's gone global.
"It's all about people coming together to focus on this brilliant world we all share and think about how we need to protect it.
"Hundreds of millions of people turn off their lights for one hour, on the same night, all across the planet - a visual demonstration that shows just how much people care about our wonderful planet.
Budding poets
"But more importantly, every single person who takes part is adding invaluable support to a global movement that recognises the importance of the world, and the vital way in which its seven billion inhabitants treat it."
At Swansea Community Farm there was a pedal-powered mini festival with the audience invited to pedal a bicycle to generate power for the sound system, with an acoustic concert during the hour itself.
Earlier in the day, visitors made recycled candles and willow lanterns.
Budding poets gathered in Chapter Arts Centre in Cardiff to read poetry on the theme of renewable energy, and illustrator Matt Joyce created an Earth Hour image from LED lights outside the venue.
At Victoria Gardens in Neath, the lights went out for a night walk featuring a giant puppet and LED and fire shows.