Wales weather: 2,000 still without power after more snow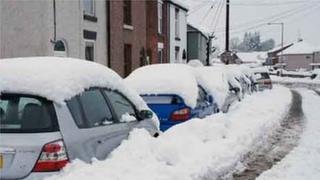 About 2,000 properties are still without power in north Wales following heavy snow and some will remain without electricity overnight.
Scottish Power said the majority of those affected were between Llangollen and Corwen in Denbighshire.
At one stage on Saturday, 6,000 properties had no power but engineers have been working to restore supplies.
Meanwhile, a couple in a car were stuck for 18 hours in a snow drift before being rescued, it has emerged.
The pair were trapped near Bala in Gwynedd at 14:00 GMT on Friday, and were located by rescuers from the Aberdyfi Search and Rescue Team at 08:00 GMT on Saturday.
Scottish Power have been hampered in carrying out repairs by road closures, some of which are expected to remain overnight, meaning some customers will not be connected until Sunday at the earliest.
The A5 Corwen to Llangollen remained closed on Saturday evening due to overhanging trees and snow. The road is open from Llangollen towards the Wrexham direction.
The snowfall has caused widespread disruption to roads and rail travel.
The snow moved southwards overnight affecting Powys and the Gwent Valleys.
Emergency services have said many roads are treacherous and people are being warned to travel only if necessary.
4x4 vehicles
North Wales Police who were called out to help stranded motorists in some cases found themselves in difficulties coping with the conditions.
Scottish Power said it managed to reconnect a number of properties on Friday which had lost power, only to receive a new batch of faults on Saturday.
The company said a number of electricity poles had been brought down, some by falling trees.
A Scottish Power spokesperson said: "We managed to restore most of the faults we experienced on the network on Friday in north Wales, but continuing heavy snow and high winds overnight caused a number of new faults.
"The worst areas affected were around Llangollen and Corwen.
"We experienced fallen trees and broken poles as a result of the weather.
"Unfortunately blocked roads and snow drifts of up to 10ft have hampered our recovery efforts, but we have been working closely with the local authority who have been clearing roads where possible to allow access for our engineers. However, some of the roads are unlikely to reopen this evening."
The company said progress had been made during the day and engineers would work as late as possible on the remaining faults.
"It is likely that some homes will be without power overnight, and we would ask anyone requiring advice to contact the ScottishPower Emergency Helpline on 0845 272 2424," said the spokesperson.
Meanwhile, hospital staff, paramedics and renal patients have been driven to north Wales hospitals by British Red Cross volunteers using 4x4 vehicles.
Risk of ice
They have helped more than 70 people so far in the Wrexham and Flintshire areas, starting work at 05:15 GMT.
"It's great to know that our 4x4 capability can be of such vital use to medical staff in getting them through these tough weather conditions to patients, many of whom are seriously ill," said David Hallows, from the Red Cross.
"I've never seen snow like it. It's a metre thick in places and it's not drifting."
Forecasters say the weather should turn much colder, bringing the risk of ice.
BBC Wales weather presenter Sue Charles said: "We've had some very disruptive weather over the last 24 hours.
"There has been fresh snowfall across north east Wales overnight, and that band slipped south eastwards into Powys and the Valleys.
"The Met Office has downgraded its warning for north east Wales to yellow.
"The snow will gradually ease through the day, but with 10-20 cm of lying snow at lower levels - the heaviest in Wrexham and Flintshire - mixed with some very strong winds - drifting likely - and still causing disruption.
"Turning much colder overnight, a widespread frost is likely and ice could also cause a few problems."
Snow flurries
Ms Charles said it would be drier on Sunday with just a few snow flurries possible in the east, but it would be much colder with highs of between 1 and 3C.
It will stay cold next week, she added, but largely dry and temperatures will begin to return to normal over the Easter weekend.
On the roads, Mid and West Wales Fire and Rescue Service said there had been a few traffic collisions on Friday night and early on Saturday.
The worst incident saw a person taken to hospital after a two-vehicle crash on the A458 between Welshpool and Llanfair Caereinion, Powys, at about 01:20 GMT.
In Gwynedd, a number of roads are closed due to the snow.
They include the A4212 Trawsfynydd to Bala, the B4391 Lon y Berwyn at Llandderfel, Lon y Mignant, Blaenau Ffestiniog, to the A4212, the A5 Bethesda to Llyn Ogwen and the A4086 Nant Peris to Pen-y-Pas.
Gwent Police said there had been a few road collisions on Saturday but none were serious. Monmouthshire appeared to be the county worse hit by snow, it said.
The heavy snow has also disrupted train services in north Wales, National Rail Inquiries said.
A tree blocking the line at Chirk has cancelled services between Wrexham and Shrewsbury until further notice. Railway staff are on their way to the scene to start removing the tree.
Earlier, several trees fell on the line between Wrexham Central and Bidston. Services later resumed after the line was cleared.
'Good neighbours'
Flintshire council said its street scene teams had been working around the clock since Thursday evening with 13 gritters and 36 agricultural ploughs treating and clearing routes.
Priority routes are passable with care, but conditions remain difficult. Fallen trees have also caused additional problems on some roads.
The authority said there would be no waste collections of any type on Saturday, but it has asked residents to leave their black bins out because collections could resume on Monday.
Properties that did not receive a recycling collection on Friday or Saturday are being told that collections will now take pace next Friday or Saturday.
Trade waste collections will resume on Monday and Tuesday.
Flintshire has also urged people to be good neighbours and check on elderly and vulnerable residents during the severe weather.
Its social care staff are maintaining service and making sure urgent visits are made.
The council said domiciliary, residential care and supported living staff have been working hard to reach people needing help.
Denbighshire council is urging people in the south of the county only to travel if absolutely necessary.
The A525 to Llandegla remains open, as does the A494 to Corwen and main A and B roads to the north of Ruthin.
However, many of the roads in the south are closed due to the severe wintry weather.
Road crashes
"Teams of council staff have been working around the clock, working in atrocious conditions to try and keep the roads open in the south of the county, but the sheer amount of snow that has fallen, coupled with snow drifts, have hampered those efforts," said a council spokesperson.
Over 200 schools closed on Friday, and there were several weather-related road crashes.
The snowfall is also expected to be the heaviest for the time of year in north east Wales since 1979.
Two flood alerts were in place in areas around the rivers of north west Wales, from Abergwyngregyn to Aberdaron as well as on the River Erch at Abererch in Gwynedd.