Lack of transport traps elderly in Wales, says WRVS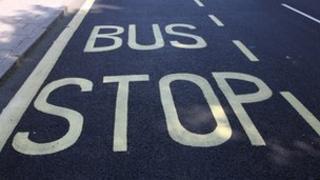 Many older people in Wales are unable to get out and about because of a lack of suitable transport, a report by a charity suggests.
Some feel trapped in their home and are depressed, lonely or isolated, says the older people's charity WRVS.
The situation had been made worse by recent cuts in public transport, the charity claimed.
The older people's commissioner for Wales said the importance of good transport "must not be overlooked".
"Local transport is vital to help older people get to their GP, hospital or to go shopping, but it's so much more than that," said Sarah Rochira.
"It helps older people remain part of their community, allows them to visit family and friends, take part in the social activities they enjoy, and helps to stop people becoming lonely and isolated, which can have devastating consequences on people's health and wellbeing."
The report is based on a survey of 300 people, out of an estimated 263,700 over-75s in Wales.
A total of 7% of those questioned agreed they felt trapped in their own home because they can no longer use a car or take public transport. Nine percent said they felt they had lost their independence, and four percent said they felt depressed at being unable to get out and about.
Although free travel is available for those aged over 60 in Wales, 11% of respondents to the survey said they did not use public transport because it was not suitable for their disabilities.
WRVS called on public transport providers to provide training for drivers to allow them to help and support older people who needed assistance.
'Basic necessity'
The charity also wants a greater proportion of funding put towards community transport because many people were unable to manage the walk to their nearest method of public transport.
Sally Rivers, head of operations for WRVS in Wales, said: "Older people in Wales shouldn't be confined to their own homes simply because they can't access transport.
"Getting out and about is a basic necessity that many of us take for granted, but this report shows it isn't so straightforward for older people who may have mobility issues, and we know this can have a devastating impact on well being."
The WRVS said the report highlighted the vital role transport played in the lives of older people, keeping them connected to local communities, services, family and friends.
It also showed that cuts to transport services have had a "devastating impact on older people's sense of happiness and wellbeing", said the charity.