Wales weather: Power restored but ice risk remains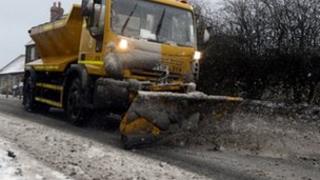 Plunging temperatures have brought a risk of ice to north and mid Wales, but the worst of the snow appears over.
Some 6,000 homes had lost their electricity in Denbighshire over the weekend, but all had supplies restored by Sunday night.
A family of four marooned on a hillside farm outside Wrexham for days were also airlifted to safety on Sunday.
They included a baby and rescuers said they had burned furniture to keep warm.
The family were flown to safety by a rescue helicopter from Valley on Anglesey from the farm seven miles west of Wrexham.
Drifts up to about 8ft (2.5m) had prevented them from getting into their snow-covered vehicle.
The Met Office warned that melting snow may have frozen overnight, turning to ice on pavements and roads.
A yellow "be aware" warning for ice in Gwynedd, Anglesey, Powys, Conwy, Denbighshire, Wrexham and Flintshire remains in place until 09:00 GMT on Monday.
Temperatures were expected to have fallen to as low as -5C (23F) overnight.
Forecasters said Monday would remain cold but mostly dry with isolated snow flurries possible, mainly in the east. Little change is expected during the week.
Elderly and vulnerable
Heavy snow fell in parts of Wales on Friday and Saturday, with Flintshire, Denbighshire and Wrexham seeing the worst of the disruption.
Many roads were treacherous and some impassable, particularly minor routes.
Roads closed include:
A4086 Pen-y-Pass in both directions between Market Street (Llanberis) and A498 (Nant Peris).
A44, between A481 (Llanfihangel-Nant-Melan) and A488 (Penybont).
A5, which is closed in both directions between B4401 (Corwen) and Hall Street (Llangollen).
A5104, which is closed in both direction between A525 (Llandegla) and A494 (Corwen).
A525 Nant-Y-Garth Pass, between B5431 (Llandegla) and Lon Speiriol-Isaf (Ruthin).
A542 Horseshoe Pass, between A5104 (Llandegla) and B5103 (Llangollen).
Wrexham football fans braved the poor conditions to travel to London to see their team triumph in the club's first visit to Wembley in the FA Trophy final against Grimsby Town.
By Sunday evening, most major routes had reopened apart from a handful in Denbighshire.
Denbighshire council said teams were working around the clock to clear the road network.
Disruption to some services is expected on Monday with Flintshire council saying its day centres are closed.
The council also urged people to be good neighbours and check on elderly and vulnerable residents.
While 200 schools were closed on Friday, pupils in the areas affected have now started their Easter holidays.