Becky James: Women 'put off cycling by road risks'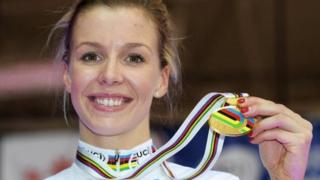 Many women are put off cycling because they do not feel safe on roads, says double world champion Becky James.
The 21-year-old from Monmouthshire says while women are at the sport's higher levels, they shy away from daily cycling because of the risks.
British Cycling says it wants a million more women riding bikes by 2020.
James agreed that men were more "gung-ho" and take chances and said: "Women like to feel safer when they are out on their bikes and not risk their lives."
Last month James, of Abergavenny, became the first Briton to win four medals at a single World Track Cycling Championships.
She has been tipped as a potential star of the 2016 Olympics, having missed out on the London Games.
She told BBC Radio Wales that she backed British Cycling's campaign to make the roads safer and encourage more women on to bikes.
She said: "You see them at the highest levels of the sport but you don't see the rest of them - women with families.
"Women don't ride bikes. People don't feel safe on the roads and women don't like to be seen in Lycra either.
"It's about getting young girls and women on their bikes. Everyone has to start somewhere."
British Cycling, the national governing body for cycling, said women are still three times less likely to cycle once a week than men and only one-in-four people who cycle once a week are female.
'Main barrier'
James said: "If you go into London and see people on their bikes, you can see how close people come to getting hit. Not many people would want to go and risk their life and do that.
"That's why people don't feel safe on the roads. That's why we're trying to get bike lanes put in, just safer roads in general. Hopefully it will get more people on the roads."
British Cycling said it would continue to campaign for safer roads for all cyclists to help overcome the safety concerns that 30% of women identify as the main barrier to taking up cycling.
It plans to engage 80,000 more women to get in to cycling through its Breeze programme.
It said: "The will to take up cycling amongst women is significant - around 900,000 women want to start cycling."