Wales weather: Roads still closed in counties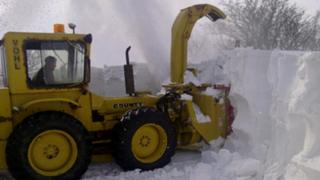 Snow is still causing problems for motorists in mid and north Wales with a number of roads still closed.
Continuing low temperatures means the snow is not thawing quickly and some roads remain impassable after last week's bad weather.
Among those still closed are the A4086 Llanberis Pass although the A542 Horseshoe Pass is passable with care.
Minor roads are still affected in Powys, Denbighshire, Flintshire and Conwy.
Denbighshire Council said work was continuing to clear snow from minor roads but many were still blocked.
"It is still a constantly shifting picture at the moment," said a spokeswoman, on Wednesday afternoon.
"Every available resource is being used and 30 highways crews and contractors will be working into the Easter weekend to continue the clearance work."
The Denbigh Moors road on the A543 between the B5382 at Denbigh and the A544 at Bylchau is shut in both directions.
In Conwy, roads affected include the A543 between Pentrefoelas and Sportmans Arms.
Conwy Councuil said some minor local access roads were closed but "steady progress" was being made to clear the snow drifts.
A fallen tree has also closed Bache Mill road between Butler Hill and Allt Y Badi in Llangollen, Denbighshire.
Meanwhile, snow is being cleared from the Llangollen Railway so the heritage line can open for the Easter weekend.
George Jones, for Llangollen Railway, said, "Within no thaw in sight the need is for spade work to clear the public access to stations and platforms, as well as to clear the points and lineside mechanical equipment to allow trains to operate.
"The depth of the snow in places has not been seen for many years and it will require a tremendous effort to reopen the line in time for Easter."
In Flintshire, large areas of up to 450mm (18ins) of lying snow is reported, with drifts up to 6m (20ft) in some rural areas.
A council spokesman said: "All of the council's available Streetscene resources are continuing to deal with emergency snow clearing and ensuring that priority routes remain clear, although it is not practical or possible to clear the snow from the side roads and estate roads and footpaths."
The A488 was closed in both directions due to snow between Clun in Shropshire and Knighton in Powys.
Forecasters say there is a risk of snow for the Easter weekend but it is now lower than previously thought.
Snow last Friday and Saturday disrupted travel and left thousands of people without power.