Squeezed grass turned into food packaging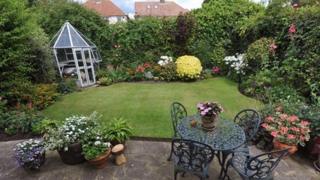 Scientists are turning grass often found on garden lawns into food packaging used by supermarkets.
Researchers at Bangor and Aberystwyth have developed a technique where the sugar is squeezed out of ryegrass and the leftovers are moulded into shape.
Packaging trays for soft fruits such as pears and plums, as as well as cosmetic products, can be created using the moulding technology.
The project is funded with £600,000 of Welsh government money.
The Sustainable Ryegrass Products (STARS) project will be jointly led by the BioComposites Centre at Bangor University and the Institute of Biological Environmental and Rural Sciences (IBERS) at Aberystwyth University.
It is hoped the supermarket chain Waitrose, a partner to the project, will be able to use the techniques to create more sustainable packaging for its products.
Similar packaging products to the ones being developed have been made previously using wood, but experts at Bangor University claim this exact method using grass has never been done before.
Robert Elias, commercial manager of Bangor's BioComposites Centre, said the grass containers developed were "higher quality, more resistant to damage and easily composted after use".
The researchers said the project highlighted the need to support the rural economy and said that as well as finding a new use for excess grass cuttings the plans could minimise land wastage.
Quentin Clark, head of sustainability at Waitrose said: "Moving to easily recycled fibre-based packaging for foods, where this can show positive environmental benefit, is something we're keen to develop".
Mr Clark said a key element in the project was appealing to the public.
Economy Minister Edwina Hart called the plan a "novel project with commercial potential" and has praised the partnership between industry and academia to create new products.
The plans are in line with the UK government's climate change strategy.
Prototypes are expected to be ready in three years and the product should be on the shelves one year later.
The study will also examine other possible uses of ryegrass, such as transport fuel.