Garden birds declining in Wales warn RSPB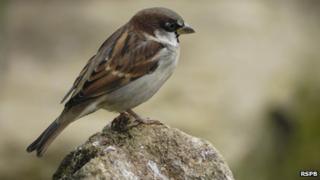 Some of Wales's most threatened birds are continuing to decline, according to the charity RSPB.
More than 30,000 people across Wales helped gather sightings of bird species for the charity in January.
The results show some of the most threatened "red-list" birds are continuing to drop in numbers.
Starlings had hit an all time low in 2012 - and that position worsened in 2013, with numbers dropping by 15%.
House sparrows, which are also on the red-list of conservation concerns, dropped by 18% compared with last year, while the number of bull finches spotted fell by 22%.
Bethan Lloyd from RSPB Cymru, said: "We know from the many people who take part in Big Garden Birdwatch every year that garden birds are incredibly precious to us.
"But, several of our familiar and best-loved species are continuing to decline at alarming rates."
The annual Big Garden Birdwatch is now the world's biggest wildlife survey, according to the charity, with half-a-million people taking part across the UK.
"We go to great lengths to ensure that special habitats in Wales are given the right levels of designation and legal protection because of their role in supporting threatened wildlife," added Ms Lloyd.
"But what's very clear is that every one of our gardens, the spaces literally on our doorsteps, are really important too and help connect us all to nature on a daily basis."
Backyard nature
While some species appear to be less frequent visitors to Welsh gardens, the RSPB said some birds were doing much better.
Sightings of siskins were up by 50% and sightings of long tailed tits up by 66%.
The charity said both these species tend to feed in flocks and the increase is likely to be because of the cold and harsh conditions in the wider countryside, driving these birds into gardens on their search for food.
Following this year's survey, the RSPB said it would urge all garden owners to help improve conditions for wild birds.
"Gardens make up around 4% of Wales's land area and their role as habitats for our wildlife cannot be ignored," said Ms Lloyd.
"Everyone, whether they have a garden of greenery, a yard or a window box, can play a part in making their space more welcoming and supportive for wildlife."