Wales weather: Snow drifts continue affecting roads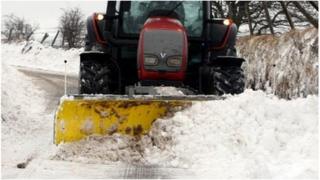 Snow which has hardened in freezing temperatures is continuing to cause problems across north and mid Wales, with a number of road closures.
The A4086 Llanberis Pass remains impassable with no timetable for when it might reopen, but the A542 Horseshoe Pass is just passable for 4x4 vehicles.
Minor roads are still blocked in Powys, Denbighshire, Flintshire and Conwy.
Flintshire council said some drifts are 6m (20ft) deep while Denbighshire said roads can be blocked "hedge to hedge".
Denbighshire council said the situation on rural roads was a "constantly shifting picture".
A spokeswoman said: "Drifts are still re-forming over roads that have been cleared and so access is with 4x4s only."
Parts of Llangollen and Corwen town centres have been cordoned off as a precaution due to large amounts of snow that may fall from some roofs, although the streets are being cleared in time for Easter, the council said.
Damaged trees
The A543 Denbigh Moors Road is closed due to snow, while in Gwynedd the B4391 Berwyn mountain road is closed due to snow between Bala and Llangynog.
The Horseshoe pass is just passable for 4x4 vehicles but the council is still advising drivers to seek an alternative route as the road may need to be re-closed quickly due to continually drifting snow.
In Wrexham, a van stuck in the snow is blocking Stryt Y Bydden in New Broughton between Bersham Road and the A525.
The Llangollen stately home Plas Newydd will shut over the Easter weekend because trees around the property have suffered substantial damage.
Manager Sam Williams said: "A large number of damaged trees are still classified as unsafe and contractors have been unable to reach many of them in the snow."
He said the house, gardens and tea rooms will re-open on Friday 5 April.
Wrexham Football Club is appealing for volunteers to help ground staff clear the Racecourse pitch of an estimated 11cm (4.3ins) snow from 08:00 GMT on Friday.
A statement on the club's website said volunteers should bring a spade with them "while any additional wheelbarrows will also come in very handy".
Rural lanes
In Powys, the B4355 between Dolfor and Knighton is closed due to snow, as is the B4520 due to snow on the road between Builth Wells and Upper Chapel.
Flintshire council said large areas of the county have upwards of 450mm (18ins ) of lying snow and drifts have closed many rural lanes.
It said all town centre car parks have been cleared of snow and Holywell market was taking place on Thursday as usual.
Conwy council said its main routes were open, except for the A543 between Pentrefoelas and Sportmans Arms.
It said staff have been pre-salting roads ahead of the Easter weekend.
'Experienced climber'
Meanwhile, mountain rescuers were earlier called out after a 53-year-old local man fell 100ft while climbing on Snowdon.
The man had head and back injuries after the tumble on snow on Lliwedd and was airlifted to Ysbyty Gwynedd in Bangor by an RAF rescue helicopter from RAF Valley, Anglesey.
Rescuers said he was properly equipped and was an experienced climber.