Easter message by Archbishop of Wales likens God to Fireman Sam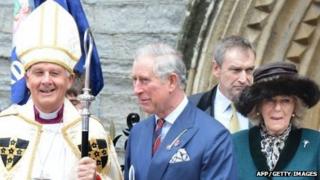 The Archbishop of Wales has drawn comparisons between God and the animated character Fireman Sam in his Easter message.
Both are in the rescue business and never let people down, he says.
Dr Barry Morgan said that just as the TV fireman helps "anyone in trouble, with no questions asked, so too God responds to everyone in need".
Meanwhile independent churches in Wales claim hunger is the biggest challenge this Easter.
Dr Morgan will preach at Llandaff Cathedral on Easter Sunday.
Fireman Sam became a multilingual TV star after he was developed for Welsh audiences as part of the animation explosion of the 1980s.
'Lifeboat'
The archbishop compares God to the popular children's character as a rescuer of people in all kinds of scrapes.
Dr Morgan says: "As his name suggests, Sam is a fireman who rescues people from fires but he is into all kinds of rescue.
"So, whether people are stuck up a mountain, marooned at sea, have fallen off a cliff or their bus has got stuck in a bog, helped by Penny, Tom, Elvis, Station Officer Steel and Radar the dog, based at the fire service at Pontypandy, Fireman Sam comes to the rescue.
"If you wanted to sum up God's work, He is a God who is in the rescue business. That is the root meaning of the word 'salvation' - it means being saved from something or someone.
"Rescuing is God's business. The danger is that we can treat that a bit like we might a lifeboat - there in case we need it, useful as a backup but if we do not go out to sea or if we are very careful, not really essential.
"But the message of the Gospel is that God is not a backstop. Through Jesus He offers us new life now, for life without a relationship with Him cannot be lived in its fullness."
Food poverty
In her Easter message, Fiona Gannon, chair of the council of the Union of Welsh Independent Churches, asks if there is a better way to celebrate Easter than pledging to campaign for the poor and starving.
Dr Gannon also highlighted the "If" campaign supported by over 100 organisations.
She said the world's people can be fed "if we stop big companies dodging taxes in poor countries, so that millions of people can free themselves from hunger; if we make the right investments to stop people dying from hunger, and help the poorest people feed themselves; if we stop poor farmers being forced off their land, and use crops to feed people, not fuel cars; if we force governments and big corporations to be honest and open about their actions that stop people getting enough food."
"As we enjoy our Easter eggs, let us remember Jesus' words to 'Love your neighbour as yourself,' and to act upon that great commandment," she added.