Farmer Gareth Wyn Jones' anger at response over snow-hit sheep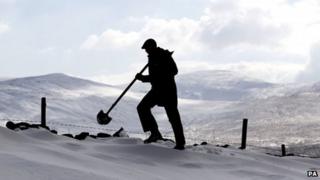 A farmer who has spent days digging out dead sheep and ponies from the snow is angry the agriculture minister is not taking immediate action to help.
Hundreds of animals have died in the cold but EU rules mean farmers must pay firms to pick up the dead stock.
Prof Christianne Glossop, Wales' chief vet, told BBC Wales she had been asked to look into a partial law change.
Earlier, farmer Gareth Wyn Jones said immediate help was needed.
Natural Resources and Food Minister Alun Davies will make a further statement on Tuesday.
Snow drifts of 15ft (4.57m) in north Wales left hundreds of sheep buried last week.
The Farmers' Union of Wales wants the rules lifted so farmers can bury them.
Conwy valley farmer Mr Jones said he, along with three neighbouring farmers near Llanfairfechan, estimated they had lost nearly 300 sheep.
More than 25 wild ponies that are kept on the nearby mountains have also died.
Farmers have spent days digging out the bodies, but they are unable to dispose of them because of EU laws on burying animals.
FUW president Emyr Jones has called for the regulations to be lifted so that farmers can bury the animals - which he said can be done in "exceptional circumstances" - or allow carcasses to be collected for free.
Wales' chief veterinary officer Professor Christianne Glossop told BBC Wales Today she had been asked by Mr Davies to look at what could be done to ease the burden on farmers.
"The Welsh government has the authority to issue a derogation [partial revocation of the law] to allow the burial of fallen stock," she said.
"If we're going to look at that - and that's what the minister's asked me to do - we have to look at the duration of such a derogation and also the geographical spread."
Earlier, Gareth Wyn Jones said he was unhappy that Mr Jones says he will not make a further statement on the issue until Tuesday, adding that help is needed immediately for farmers who have suffered "massive losses".
"I'm so disappointed in our agricultural minister," he told BBC Radio Wales.
'Helping each other'
Mr Jones said farmers were already facing a tough time, what with the wet weather last year, poor silage, and the increased cost of fuel and fertiliser.
Now, having to dig out frozen lambs that had just been born was "heartbreaking", he added.
"It's a disaster. These people that I know around here, they haven't been sleeping, I have lost a stone in weight," he said.
"We have had a hell of a week, all of us, all of the farming community and fair play to the locals, they came up and they helped us dig the sheep out and my next door neighbour, we have been helping each other.
"That's what you do, you roll your sleeves up. You don't go off for a weekend, even Easter. We don't, do we?
"It's so important for these politicians to understand, you can't just leave dead bodies on the mountain."
Mr Davies previously said helping the farmers was an "urgent priority".
"I'm very aware of the extreme difficulties farmers in Wales are experiencing as a result of the extreme weather we have witnessed over the last week," Mr Davies said on Saturday.
The following day he said on Twitter - in response to a question from Mr Jones - that he would make a further statement on Tuesday.
The Welsh government said on Monday that this was still the minister's position on the issue.