Sheep snow deaths: Farmers could get law change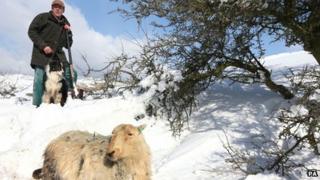 Laws that prevent farmers burying dead animals could be relaxed to help those struggling after hundreds of sheep died in the recent snow.
Farmers say they are facing a "disaster" after the bad weather.
EU rules mean they cannot dispose of the animals and instead must pay firms to pick up the dead stock.
But Wales' chief vet Christianne Glossop said the Welsh government was consulting lawyers to see if they could apply for a partial change in the law.
Natural Resources and Food Minister Alun Davies - who has responsibility for agriculture - will make a statement giving more details later on Tuesday.
He had been criticised by some farmers, who wanted action over the bank holiday weekend.
They said they had spent the Easter period searching for their animals in snow drifts of up to 15ft (4.57m) in mid and north Wales, but hundreds did not survive.
Under EU and Welsh law farmers must pay firms to dispose of carcasses as soon as possible but many have been unable to do so, with some lorries unable to reach the farms and mountains.
FUW president Emyr Jones had called for the regulations to be lifted so that farmers could bury the animals - which he said can be done in "exceptional circumstances" - or allow carcasses to be collected for free.
Professor Glossop said that Mr Davies had asked her to look into how the farmers could be helped.
"Farmers are telling us that they have so many dead stock that they're struggling to get those animals collected, particularly in remote areas where driving to those farms with lorries to pick up the stock is really difficult," she told BBC Radio Wales.
"And really we have got to focus on what they can do with their dead stock, whether or not it's possible for us to introduce a short-term, time-limited derogation [in the law] to enable them to bury their fallen stock instead.
"That is outside of the current legislation and that's why we're working closely with lawyers to figure out how we might do that, if we can."
She added that the Welsh government was also considering whether they could help with the costs of paying firms to take the dead animals away.
Animal deaths
Gareth Wyn Jones, who farms in the Conwy valley, had criticised Mr Davies for not taking action over the bank holiday weekend.
He said he, along with three neighbouring farmers near Llanfairfechan, estimated they alone had lost nearly 300 sheep.
More than 25 wild ponies that are kept on the nearby mountains have also died.
"It's a disaster. These people that I know around here, they haven't been sleeping, I have lost a stone in weight," Mr Jones told BBC Radio Wales on Monday.
"We have had a hell of a week, all of us, all of the farming community and fair play to the locals, they came up and they helped us dig the sheep out.
"That's what you do, you roll your sleeves up."