South Wales Chamber of Commerce: Exports rise and advance orders healthy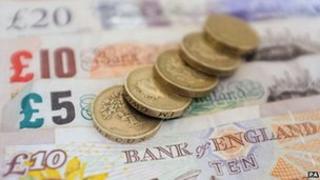 Businesses in south and mid Wales are selling more overseas and confidence is high despite economic challenges, according to a survey.
More than three quarters (78%) of firms had maintained or increased exports, compared to 75% in the last quarter, said South Wales Chamber of Commerce.
Rising energy prices are among the main concerns for the businesses, the survey reveals.
Asian markets are being targeted as key sources of new business.
The quarterly economic survey (QES) monitors the performance of businesses in Cardiff, Newport, Swansea, mid Wales and the surrounding areas.
The chamber, which sends out surveys to around 4,500 businesses, says it acts as a barometer for the strength of the Welsh economy.
"Our first QES survey for 2013 shows that across the board, exports either remained strong or improved," said chamber director Graham Morgan.
"Despite challenging times, confidence within the south and mid Wales business communities remains high."
He said they intended to build on a recent event with experts, aimed at companies looking to Asian markets, including Japan, Hong Kong, Malaysia and India.
Mr Morgan said if businesses wanted to grow in the current climate, they needed to look outside the UK and identify new markets and investigate "every potential opportunity to the full".
He added: "With little in the chancellor's Budget to help businesses in the here and now, this is all the more imperative, and I would urge businesses not to be complacent but continue to be proactive and investigate every potential opportunity to the full."
'Significant rise'
Mr Morgan said rising energy prices were among the main concerns for businesses.
The survey also found:
Recruitment was slightly down, with 41% of businesses recruiting compared to 44% last quarter
There has been a significant rise in the number of businesses recruiting for full-time jobs, 87% compared to 77% in the last three months of 2012
Around 87% of businesses expected to maintain or increase their annual turnover in 2013