Snow-hit farmers' appeal for compensation rejected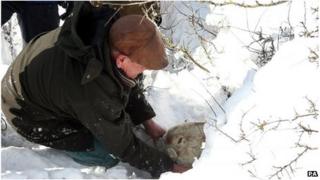 Farmers who lost sheep in the recent heavy snow have failed in another bid to convince a Welsh government minister that they should be compensated.
Around 50 farmers attended a heated meeting with Natural Resources Minister Alun Davies in Powys on Thursday.
Mr Davies has relaxed laws on the disposal of animals, but ruled out financial compensation.
Deep snow drifts affected parts of Wales in March, with farmers reporting that they lost hundreds of lambs.
Before the meeting in Llanidloes he said the Welsh government would take practical action to help farmers who had lost stock.
'Extreme weather'
"I'm very aware of the extreme difficulties farmers in Wales are experiencing as a result of the extreme weather and have been monitoring the situation closely," he said.
"Today's visits will provide an opportunity for more face-to-face discussion of the challenges faced and for us to consider how we can work together to meet those challenges.
"The Welsh government is keen to do what it can to help these farmers to deal with their lost stock as quickly and safely as possible."
But following the meeting, Emyr Jones, president of the Farmers' Union of Wales, said he was "very disappointed" by Mr Davies's reaction.
"All we asked him was to give us the same support that farmers in Northern Ireland and Scotland are having," Mr Jones added.
"The ministers of those two countries are helping the farmers, but Alun Davies today didn't want to help the industry at all.
"I felt he was talking down to us as farmers.
"This bad weather has come at the worse time possible and all we wanted today was to have a discussion with him, and hopefully that he could show some support to us when we really needed it, but it was obvious he was not going to give that to us today."
'Attitude'
But in an interview with BBC Wales after the meeting in Llanidloes, Mr Davies said the situation in Northern Ireland and Scotland had been fundamentally different to what farmers had experienced in Wales.
"Things have been very difficult here and I wouldn't for a moment seek to under play the difficulties farmers and other businesses have had to face over the last few weeks, but we must also recognise that the difficulties faced here are of a different degree to those which have been faced by farmers in Northern Ireland and Scotland," he said.
The president of the National Farmers' Union (NFU) in Wales, Ed Bailey, said he was disappointed.
"I felt that in the first instance perhaps his attitude wasn't quite right to come to talk to a group of farmers," Mr Bailey said.
"But obviously there was no extra help coming to farms. It's strange to me at the end of the day why we should be treated differently to the rest of the countries in the United Kingdom, and certainly within the vast majority of those within Europe."
On Wednesday, the minister told BBC Radio Wales that farmers had already received over £260m in payments, referring to funding via the EU's common agricultural policy.
"We have to be fair not only to the farm community but to taxpayers as well," he said.
He heard a further appeal to reconsider providing financial aid at Thursday's meeting.
NFU Cymru said many members were struggling in the wake of the coldest March for 50 years. Many sheds had collapsed under the weight of the snow and significant numbers of sheep had been buried.
Gwyn Howells, chief executive of Meat Promotion Wales, told BBC Radio 4's Farming Today he expected to see a reduced number of Welsh lambs going to market this year.
"Mother Nature has dealt a very poor card at a very wrong time with lambing season either starting or just about to start," he said.
"The cost of this storm cannot be quantified as yet but will be very significant."
However, Mr Howells said he did not expect it to affect supplies to customers with so many animals in the food chain - about 4.5m breeding ewes in Wales and 15m in Great Britain.
Meanwhile, Lord Elis-Thomas, who chairs the assembly environment and sustainability committee, has called for an inquiry into the effects of the extreme weather on Welsh farming and for long-term solutions on how to support the agricultural businesses affected.