Scorpions and spiders sent to homes by regular post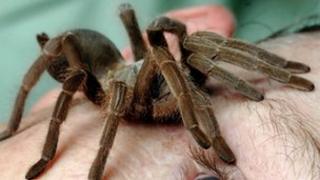 Scorpions, snakes and spiders bought from foreign websites are being sent by regular post in order to bypass border controls.
The exotic pets are usually sent by courier but some dealers are shipping them by post in unsafe packaging.
The issue is being highlighted in a new BBC Wales TV series fronted by reptile specialist Dr Rhys Jones.
Dr Jones believes the potentially lethal animals are coming from suppliers in mainland Europe.
"We live in society at the moment which is a push button society," he told BBC Radio Wales.
"Whatever you want you can just order over the net and get the next day.
"What we're finding is that people are just looking at the latest film or the latest trend from a programme.
"If there's an animal on there they think: 'I've got to have one of those', and they're treating the animals almost as fashion accessories."
Dr Jones, who is also a lecturer at Cardiff University, said people were buying the animals without the proper facilities to store and look after them.
He said police in Wales had been intercepting tarantulas and scorpions being sent through the post.
"When I say through the post, I'm not talking about a courier here, I'm talking about just ordinary post office general post," he added.
"These parcels are coming in from (mainland) Europe. They're completely bypassing our border controls and people are getting these packages and they've no idea what they're dealing with."
'Venomous snakes'
Dr Jones said he had encountered venomous tarantulas, spiders and snakes among other animals that have been sent through the post.
He also told of one man who spent two days in hospital after he was attacked by a scorpion he had ordered from an overseas supplier. The supplier had sent him a potentially lethal scorpion by mistake after misidentifying it.
South Wales Police wildlife and environmental crime officer Mark Goulding said incidents were difficult to track.
"On the whole pets sent by post are not venomous," said PC Goulding.
"Boxes come with punctured lids and arrows saying 'this way up' but parcels like that could be anything. The arrows could be for china plates.
"The exotic pet trade has become a lot more popular in the last three years. We are getting more calls out to homes with snakes, scorpions and exotic frogs. A lot of people buy them to make a statement."
A Royal Mail spokesperson said they had anecdotally heard of incidents and said items must be clearly marked "Urgent - living creatures - handle with care".
The spokesperson added: "Live animals and reptiles are prohibited, as are any creatures or insects classified as dangerous within the Dangerous Wild Animals Act 1976, including certain venomous spiders."
Rhys Jones's Wildlife Patrol begins on Monday on BBC One Wales at 19:30 BST.