Motorcycle dangers: North Wales Police 'educate' bikers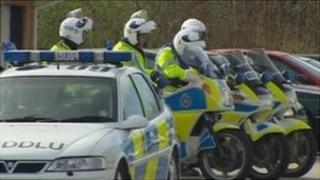 Motorcyclists in north Wales will be targeted by police hoping to reduce the number of bike-related deaths.
Operation Focus, now in its 10th year, will see North Wales Police officers stopping and talking to bikers "to educate them about the dangers", and "prosecute those who ride dangerously".
Last year, 63 riders were involved in serious collisions, with an increase in motorcyclists from outside the area.
The force says "challenging" areas like Snowdonia attract bikers.
The annual Operation Focus campaign starts this weekend and will run until early autumn, with police hoping it will reduce the number of motorcyclists killed or seriously injured.
Officers will patrol roads where collisions are most common, including the A494, A5104, A5, A470 and the A487.
In April 2011, the force said it was moving away from the controversial policy of actively stopping and talking to as many bikers as possible.
It was a policy promoted by the former chief constable, Richard Brunstrom, and led to protests from motorcycle groups.
Ch Insp Darren Wareing, in charge of the force's Roads Policing Unit, said: "It is not about alienating the motorcycling community - it is about education and enforcement."
He added: "This isn't about catching bikers out, we want them to enjoy the roads, but most of all we want them to ride safely and responsibly.
"Responsible riders are welcome to visit the area and take in the stunning scenery and landscape, but even they face risk of death or serious injury by underestimating the risk posed by fatigue brought on by a combination of driving long distances and concentrating on navigating challenging and unfamiliar routes."
He said police would "continue to target, with a view to prosecution, all those that ride or drive dangerously, at excess speed, overtake on solid white lines or commit any other road traffic offences".