Snow-hit farmers allowed more time to bury dead animals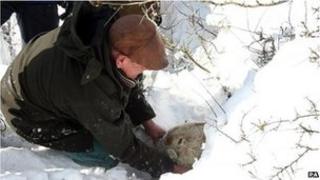 Farmers who lost livestock in the recent heavy snow have been allowed another week to bury dead animals.
The Welsh government has relaxed EU rules which require farmers to pay others to remove carcasses from their land.
The deadline due to end at midnight on Tuesday has been extended until 16 April in the worst-affected areas.
But one farmers' leader said ministers showed a "total disregard" for farmers in refusing to offer compensation.
A Welsh government review will also examine the resilience of the farming industry to severe weather and price fluctuations.
Deep snow affected parts of Wales in March, with farmers reporting that they lost hundreds of lambs.
Natural Resources Minister Alun Davies said advice from veterinary experts and weather forecasts from the Met Office made it clear that the derogation allowing on-farm burial was still necessary.
Mr Davies said that he would extend the relaxation of the rules to northern areas of Ceredigion.
Farms in parts of Conwy, Denbighshire, Wrexham, Gwynedd, Flintshire and Powys had already been allowed to bury their own sheep, lambs and calves.
Officials were working with local councils to "fine tune" the waiver and identify the parishes that were affected the most.
Any further application of the derogation will be "proportionate and directly relevant", Mr Davies said.
He added: "It is important that we understand the specific locational impacts of the snow, so that we can respond as necessary with focused practical support for those farm holdings in most need.
"I am not aware of any areas within Wales that remain wholly cut off by the snow, but my officials are in touch with colleagues in the armed forces should we find that heavy logistical support is needed in particular places."
Mr Davies has refused to compensate farmers.
He announced a review into the way the industry stands up to severe weather and fluctuations in prices, saying farm businesses had to be "effective and resilient".
The minister said it was of "great concern" that lamb farmers could be hit so hard by bad weather and a dip in prices after years in which incomes have been growing.
Such problems "cannot simply be remedied by providing further public subsidy, as some have suggested", he said.
Conservative agriculture spokeswoman Antoinette Sandbach said Mr Davies must consider urgent financial support for farmers.
"Many farmers are fighting for their livelihoods; stock has been lost, feed costs are up, sheds have collapsed, field fences are down, and financial assistance is desperately needed," she said.
"An independent review will be of no comfort to farmers left hanging in the balance."
Farmers' Union of Wales president Emyr Jones, who has lost stock on his farm in Bala, Gwynedd, said the review would do little to help farmers who had lost livestock, had damaged buildings and shortages of fodder.
He said: "All the minister is offering are a few crumbs of comfort which will do little to alleviate the crisis facing Welsh farming now and in the longer term.
"When I met him on a Montgomeryshire farm last week I urged him to consider an emergency financial package as the devolved administrations in Scotland and Northern Ireland have already agreed to assist farmers hit by similar weather conditions.
"But he has shown a total disregard for the way in which many Welsh farmers are now fighting hard to sustain their livelihoods in the hills."
However, NFU Cymru president Ed Bailey said: "The absolute priority at this time has to be dealing with the immediate and dire practical difficulties with which farmers in the affected areas are still confronted and in this context I welcome the Minister's decision to extend the derogation, both in terms of the deadline and the geographic area."
Meanwhile, wardens and estate workers from Snowdonia National Park say they will help bury around 40 Carneddau mountain ponies, which have died in the snow while grazing on the slopes on the Aber and Llanfairfechan mountains.
Dewi Davies, the national park's senior warden in northern Snowdonia, said disposing of their bodies was proving to be difficult because of the remote location.
"In addition, this particular area is of European importance due to its wildlife and therefore it will be a challenge to transport the bodies off the mountain without damaging the terrain," he added.