Martin Daws is Wales' new young people's poet laureate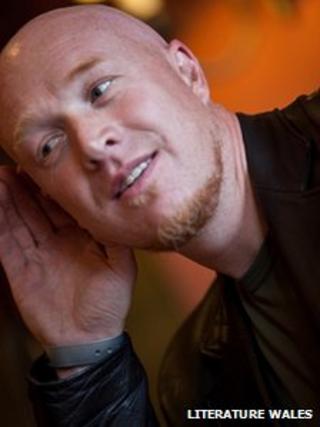 Performance poet Martin Daws has been appointed as the new young people's poet laureate for Wales.
He becomes only the second person to be named in the role by Literature Wales, succeeding the author Catherine Fisher.
Literature Wales said the new poet laureate will now work alongside a team of writers to deliver literature activities to youth communities.
The poet said he was relishing the prospect of helping "celebrate our poetic tradition".
"It is my belief that there is a poem for everyone, and a poem in everyone," said Daws.
"As Young People's Laureate for Wales I'm excited to offer every young person in Wales an opportunity to find those poems."
The role of a young people's poet laureate was established in 2011 by Literature Wales, and runs alongside the Welsh-language role of Bardd Plant Cymru.
Daws, from Snowdonia, is widely regarded as one the best live performance poets in Britain, with glowing reviews at the Edinburgh Festival, and a double winner of the Farrago Slam competitions for performance poetry.
He has already taken those skills into the classroom, working with over 17,000 people in workshops in schools, theatres and festivals.
Announcing the two-year appointment, the chief executive of Literature Wales, Lleucu Siencyn, said: "His energy both as a performer and workshop facilitator will make literature a vibrant, appealing and relevant art form for young people in Wales today.
"Creative writing is a vital expressive tool - and through Martin's encouragement, many more young people will gain the confidence to make themselves heard."
The body, which is funded by the Arts Council of Wales and the Welsh government, said the new laureate will now embark on a series of projects.
These include working with young people to create their own poetic manifestos, a summer day school for writers and youth leaders on literature activities, and a 'pop-up' poetry tour of Wales' more rural communities.
Outgoing laureate, Catherine Fisher, added: "I would like to wish Martin Daws every success as the new Young People's Laureate for Wales.
"I am sure his enthusiasm and energy will encourage many more young readers to engage with the exciting world of books and poetry."