Snow-hit farmers make written appeal to Welsh government for cash help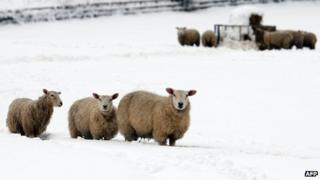 Farmers' leaders have made a written appeal to the Welsh government to reconsider its refusal to give cash to farmers hit by heavy snow in March.
They criticise ministers for having "closed the door" to emergency aid which they say is being given to farmers in other parts of the UK.
Some farmers in uplands areas of north and mid Wales are still trying to find animals buried by the blizzards.
So far the minister responsible, Alun Davies, has ruled out financial aid.
Earlier this week the Natural Resources and Food Minister extended the relaxation of rules on burying fallen livestock on farmland for a second week in a bid to assist the industry, but rejected calls for compensation.
However, the leaders of four groups representing farmers in Wales have now asked him to change his mind.
The letter is signed by leaders of the two main unions - NFU Cymru and the FUW - the president of Wales YFC (Young Farmers' Clubs), and the chairman of the Country Land and Business Association (CLA) in Wales.
They say they recognise that a devolved government in Wales has been generally good for the farming industry, and that it also receives substantial aid under EU funding.
'Parity of treatment'
But they continue: "In Wales, Welsh Government appears to have closed the door on emergency aid even before knowing the full extent of the losses which continue to mount on some farms as the snow recedes, the Welsh Government argument being that there are 'fundamental differences' to the losses sustained in Wales relative to other parts of the UK.
"From our perspectives, the losses that have been sustained on some farms in Wales are no different to those in Scotland, Northern Ireland or England and are such in some instances to threaten business viability."
The letter says that for some farmers it has been a "harrowing experience" that has left some drained "not just financially but emotionally too".
It adds: "These farmers need evidence that Welsh government cares about their plight.
"They are not seeking to be advantaged as a result of the exceptional circumstances they have had to endure but they do look to Welsh Government to provide parity of treatment with others suffering similar consequences in other parts of the UK."
The Welsh government is understood to be considering its response to the letter.