Farmers' snow plight: MP Glyn Davies to bid for Commons debate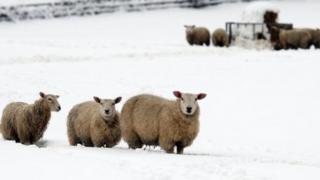 The plight of Welsh hill farmers who lost livestock in March's heavy snow is to be raised at Westminster by MP Glyn Davies, who says they are going through "desperate times".
Some farmers are still trying to find animals buried in blizzards after drifts hit north and mid Wales.
The Welsh government has rejected calls for emergency cash aid citing fairness.
The Montgomeryshire MP says he wants a Commons debate to help colleagues understand "the scale of the disaster".
Some Welsh farmers have reported losing hundreds of animals in the unseasonable snow which hit during the lambing season. They struggled to rescue ewes and offspring buried in drifts up to 15ft (4.5m) deep.
Farmers in other parts of the UK affected by the bad weather have received emergency aid, but there has been none for the industry in Wales on top of the existing £260m funding from the EU's Common Agricultural Policy.
Natural Resources and Food Minister Alun Davies, who has responsibility for farming in Wales, has expressed sympathy and offered a range of measures to help but has rejected calls for cash aid.
'Very dismissive'
Writing in his blog, Tory MP Glyn Davies, who is himself from a farming background, voiced concern for farmers who he said felt let down by the Welsh government.
"I know what it's like to look after sheep in rough weather. And it doesn't come much rougher than we've seen over the last few weeks."
Mr Davies said that although agriculture is a devolved matter he was keen to highlight the issue at Westminster.
He wrote: "Some hill farmers from Montgomeryshire feel very let down by what they describe as the attitude of the Welsh Government Minister, whom they tell me has seemed very dismissive of the problems they face."
The Tory MP said he would submit a bid for a debate on the impact of the bad weather on upland sheep farmers when MPs return to the House of Commons on Monday.
"All I will want to do is make sure MPs understand what's happened," he added.
"I could be the only MP who has experience of digging sheep out of 10 foot snow drifts."
He has also arranged for sheep farmers who want to talk to him about the disaster to meet at Welshpool livestock market a week on Monday.
"It's been a hell of a tragedy, and it's important that the nation knows of its scale and the pain it's caused to our farmers."