Blocked sewers: Welsh Water campaign to cut £7m bill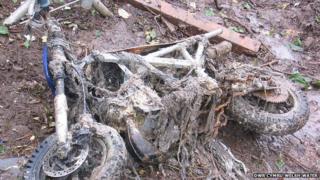 Welsh Water customers are being urged to be careful what they flush or throw away in a campaign to cut the £7m annual cost of blocked sewers.
A mini motorbike, football goal net and large soft toys are among the items recovered in recent years.
Dwr Cymru Welsh Water is launching a campaign to warn people about the pollution and flooding which results.
It says most of the 2,000 blockages a month are caused by items like cotton buds being flushed down the toilet.
The company called for "collective support" to tackle the problem.
"Cutlery, giant cuddly toys, cans, bricks, mobile phones, tricycles - it's surprising what we find in our sewer network," said Steve Wilson, director of waste water services.
He added: "Most of the 2,000 blockages we deal with every month are caused by everyday items put down the toilet such as wipes, sanitary towels, cotton buds and dental floss, as well as fat, oil and grease that people have put down their drains.
"A lot of people aren't even aware that these items can cause sewer flooding and pollution in their homes and communities.
"It is actually illegal to throw or empty anything into our network that's likely to damage a sewer or drain or to interfere with its free flow.
"Anyone who has suffered a flood in their home because of a blocked drain or sewer will know the damage and personal upset that it causes.
"With the collective support of enough people we will be able to reduce the blockages, floods and pollution that cause so much distress."
The Let's Stop the Block campaign aims to change behaviour, especially among groups believed to have the biggest impact, such as teenage girls and students, young parents, health workers, and restaurant and takeaway workers.
A number of "block hotspots" will also be targeted - Rhondda Cynon Taf and Caerphilly, the south Wales coastal area from Newport to Carmarthenshire, and parts of Flintshire, Wrexham and Denbighshire.
Cardiff North (postcode area CF14) is number one in the company's list of top 10 blockage hotspots.
Patricia Abdul-Rafin from Heath, Cardiff, who has suffered from sewage flooding many times, said: "It was very unpleasant, smelly and upsetting.
"My husband was on dialysis and we were worried about contamination," she said. "We were told that as we were at the end of a line of houses it could be that people may have put nappies, sanitary towels and other items down the toilet and it had blocked the sewer.
"A build-up of fat and grease from homes and businesses also added to the problem."
Natural Resources and Food Minister Alun Davies said: "Flooding from blocked sewers can have a devastating effect on our homes, our streets and the wider environment.
"Wales is lucky enough to have some of the best rivers, beaches and coastline in the world and we can all do our bit to stop the block and help reduce the risk of pollution and flooding in our communities."
Keep Wales Tidy chief executive Lesley Jones added: "Many small items such as cotton buds end up as litter on our beautiful beaches and fats or oils down the sink can end up causing sewage overflow into our seas.
"This can spoil an otherwise pleasant visit to our wonderful coastline. Bin it or recycle it - don't flush it away."