British Journal of Nursing award for nurse after leg ulcer success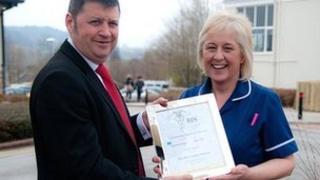 A nurse from Powys who has helped significantly improve her patient's painful leg ulcers has won a prestigious national award.
Cynthia Jones, 53, from Brecon, beat nurses from across the UK to win the British Journal of Nursing's Community Nurse of the Year honour.
In her year as a district nurse leader in Brecon she has helped improve leg ulcer healing rates from 70% to 90%.
She said she was overwhelmed to win an award after 35 years in nursing.
Leg ulcers are painful open wounds that can last for months and are hard to treat.
They are most commonly caused by high blood pressure in the veins of the legs which damages the skin, causing it to break down and develop into an open wound.
According to health experts, the best treatment, compression bandages, will normally heal only about 70% of ulcers after six months.
But Mrs Jones decided to try to do something more to help those who suffer with the wounds.
She set up a leg club at a youth club in Brecon, which enables a team of nurses to treat and support patients with leg ulcers outside of a medical setting.
Since it started just over a year ago it has helped 180 members in total and sees up to 38 patients when it is held every Thursday morning.
Mrs Jones said the club had brought benefits to both the patients - who can be of all ages - and nurses.
"The success of the leg club is that it also helps people who also can suffer from social isolation," she said.
"So you might have Mrs Jones who will come and get talking to Mrs Thomas and they can share their experiences of having leg ulcers and support one another.
"And it helps the nurses too as you are no longer on your own in an office. There can be from five to eight nurses at leg club so if you need a second opinion you can ask another nurse."
As a result, leg ulcer healing rates among the patients who use the club have gone up from 70% to 90%.
'Determined'
Mrs Jones has also helped to set up a 'virtual ward' in the town which enables more patients to be treated at home rather than in hospital.
It means a GP, social worker and nurse get together every morning to discuss each patient and discuss their treatments.
"It means a lot for some people to stay at home and it helps keep beds free in hospital," she added.
Carol Shillabeer, director of nursing at Powys Teaching Health Board, said Mrs Jones' award was well deserved.
She said it "demonstrates how innovative and determined nurses in Powys are at providing services that meet the needs of the local community".