Pensioners Forum Wales urges fuel poverty incomes boost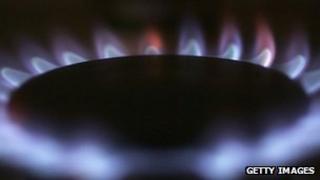 Pensioners in Wales need higher incomes to prevent fuel poverty and reduce the number of older people who die in the cold in winter, says a campaign group.
Pensioners Forum Wales wants a higher state pension to cover basic fuel costs.
It is also calling on the UK government to increase its winter fuel payment in line with inflation.
The UK government says rising energy prices affect many but it can support those most in need.
The forum is sending its fuel poverty manifesto to MPs and AMs.
Fuel poverty - where a household spends 10% or more of its income on heating to a safe and healthy level - affects an estimated 332,000 households in Wales.
Its chair Nancy Davies said: "Fuel poverty is a very serious problem - it contributes to the 1,500 older people who, on average, die every winter from cold-related illnesses such as heart attacks and strokes.
"Tackling fuel poverty and its causes has to be a priority for government, energy companies and society.
"This is why Pensioners Forum Wales has published 'What can be done to prevent fuel poverty?' so that we can identify the actions that can be taken to address fuel poverty."
The forum wants pensioners' incomes increased through a variety of means including higher state pensions, an increase in winter fuel payments, a reduction in tax on boilers and radiators, and bills that are easier to understand.
Ms Davies told BBC Radio Wales: "Most of what you pay for on fuel is tax.
"Last year we had a breakdown from British Gas and of your gas bill, 57% was the gas that you paid for, the rest was tax.
"Electricity fared even worse because only 37% of what you actually paid was for the fuel you used, the rest was taxation. This needs to be looked at."
The UK government says rising energy prices are affecting many households and, although it cannot control global energy markets, it can help keep bills low and support those most in need.
It said there was a range of incentives and direct financial help for households to keep their energy bills down such as the cold weather payment, which is made to certain pensioners during periods of severely cold weather, and the annual winter fuel payment of up to £300 for pensioner households.