Denzil Connick remembers meeting Baroness Thatcher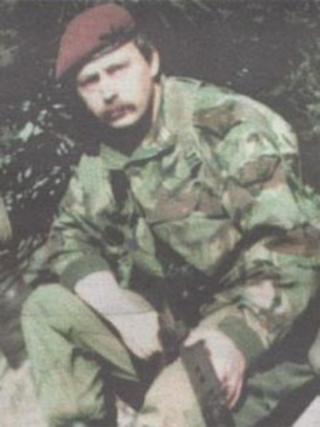 A Falklands War veteran has spoken fondly of meetings with Baroness Thatcher as he prepares to attend her funeral.
Ex-Paratrooper Denzil Connick, from Blackwood, Caerphilly county, met the former prime minister in his role with a veterans' association and found her "kind and considerate".
He said conversations with her were like "talking to your own mum".
About 700 armed forces personnel will be involved in Wednesday's funeral.
The ceremonial funeral will take place at St Paul's Cathedral at 11:00 BST, nine days after Lady Thatcher died following a stroke, at the age of 87.
Mr Connick served with the third battalion of the British Parachute Regiment, sent to the Falklands in 1982.
He met Baroness Thatcher several times through his role as secretary of the South Atlantic Medal Association.
He said he was "quite honoured" to be invited to the funeral at St Paul's Cathedral and said it was a chance for people to pay their respects "for the good things she did".
He said the former prime minister was completely different when you met her, compared to her professional persona.
"She was a pleasure to meet... very much like talking to your own mum in a sense," he told BBC Radio Wales.
"There wasn't that harshness about her that we all remember from when she was in parliament and in debates - that harsh, bossy voice that she had.
"She was very softly spoken and kind and considerate."
A miner's son who remembers the miners strike of 1984-85, he says his parents "disliked Margaret Thatcher intensely" and they were not happy that he met her.
"My parents didn't like that," he said.
"I suppose, in south Wales, especially in the Valleys because of the strikes and everything else there's a feeling that if you become a Tory or even if you're a Thatcherite then you're some kind of a traitor.
"Obviously that's not the case."
He added: "You need to at least understand and appreciate the hurt and the pain that was caused through those miners' strikes.
"But I don't think all the blame should be laid at Margaret Thatcher's feet. Of course the unions did have an awful lot to do with this.
"You can't blame Margaret Thatcher for every single thing that went wrong in this part of the world."
Recalling his military career, he said: "Margaret Thatcher was our leader if you like during the Falklands War and she pushed all the way to support us guys when we were down there, and afterwards as well."
He said British forces "actually liked Margaret Thatcher," describing her as "very much like Winston Churchill" as a war leader.
"Don't forget, as soldiers we weren't very politically-minded people," he said. "We simply follow orders.
"But nonetheless, as reasonably-educated people we all understood the rights and wrongs of some decisions made by politicians.
"But at least in this instance we all thought that Margaret Thatcher made the right decision and I think history tells that."
Mr Connick said Lady Thatcher had a "tremendous amount of compassion, especially during the Falklands War when the casualties started to come in".
'In tears'
He added: "There are reports - and she's even admitted in the company of the veterans - that she was very distraught and in tears very often when those casualty reports were coming in to her.
"And she wrote, hand-written letters as well, to every single family of soldiers and sailors and airmen that were killed during the Falklands War."
Asked his opinion of people who have celebrated her death, he said: "They basically disgust me," adding: "If it was a member of their family that people were having parties celebrating the death of, what would their reactions be then?
"They're just idiots as far as I'm concerned."
Members of the Welsh Guards, which suffered heavy losses during the Falklands War, will be among 700 armed forces personnel involved in the funeral.
Two brothers who fought in the conflict will be among the pall bearers.
Garrison Sergeant Major Bill Mott and Major Nicky Mott survived the Argentine attack on the Sir Galahad in which 48 men - including 32 Welsh Guards - died.