Ocky White, 1910 Haverfordwest store, to close in summer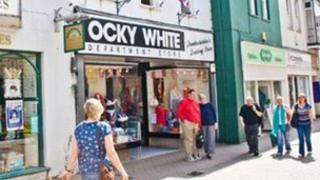 A department store that has traded for more than a century in a Pembrokeshire town is to close with 47 jobs losses.
Ocky White was founded in Haverfordwest in 1910 by the grandfather of current managing director, Jeremy White.
Mr White has blamed the recession and a new out-of-town shopping centre for "devastating" effects on the town.
The firm's Bridge Street premises is to shut in the summer but a related travel agency, Ocky White Travel, is to continue trading as usual.
Ocky White derived its name from locals who shortened the name of founder Octavius White.
The firm says his business strategy was to set up in front of Woolworth and to sell customers "what Woolworths don't stock".
The store has 10 departments, including ladies fashion, cosmetics, jewellery and gifts.
In addition to 39 staff members, the jobs losses include three directors and five concession sales staff.
'Devastating effect'
Mr White said the impending closure had been forced by reducing sales.
He told the Western Telegraph newspaper: "The traditional High Street has suffered drastically since the onset of the recession in 2008, and this has been coupled locally with the development of the edge-of-town Withybush Retail Park which has had a dramatic and - in my opinion - devastating effect on the town centre."
Another director Mark White, also a grandson of the founder, is to continue with the travel arm of the group.