Council contracts: Jane Hutt urges councils to use local firms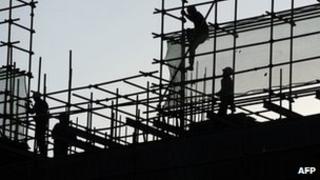 A policy to help local companies win contracts worth billions has only been adopted by two Welsh councils, BBC Wales has found.
Finance Minister Jane Hutt told The Wales Report that she expects councils to "improve their game" in procurement.
51% of the £4.3bn spent on hiring private firms for goods and services is with Welsh companies.
But councils said they could not give out contracts "willy-nilly" and using English firms was part of the process.
The Welsh government said the policy, launched in December, benefited communities and created jobs.
Ms Hutt told the programme some local authorities still needed to improve their procurement practices.
She warned the Welsh government would force councils and public bodies to adopt the guidelines through legislation if needed.
The minister said councils needed to "improve their game".
"There is no option about this," she said.
"I expect them to be implemented by local authorities, the NHS and all those in the public sector.
"In the future we will consider legislation, as I said clearly in my statement in December, if they do not adopt our procurement policy."
The policy statement tells councils and other public bodies that local suppliers must be able to compete for contracts, although it does not say they should be prioritised.
It lists a series of principles, including a definition of value for money that says the benefit to society and the economy should taken into account.
When it was launched, Ms Hutt said there were "no reasons or excuses" why the statement could not be adopted without delay.
"I do not consider adoption of this statement's policies to be optional and the potential of legislating to ensure the progress the Welsh economy and public services require is being considered," she said at the time.
'Overlooked'
However, research carried out by the programme discovered that of the 22 local councils in Wales only Swansea and Rhondda Cynon Taf had formally adopted the policy while Ceredigion was the only other council considering it.
The organisation representing councils, the Welsh Local Government Association (WLGA), said legislation was unnecessary.
Chief executive Steve Thomas said being able to employ firms from England, particularly for big deals, was an important part of that process.
He said: "We can't just give out contracts to local firms willy-nilly. They have to be part of a process that delivers quality and value for money."
However, companies across Wales expressed frustration at the lack of support and work coming their way.
Rubicon Play, owned by Neil Phillips, makes rope-based playground equipment in Rhymney and supplies goods to councils in England.
Mr Phillips said he lost out to a Scottish company on a contract with a Welsh council.
He said: "We can compete on price and quality but when work does come up we seem to be overlooked or somebody else is chosen for the job, rather than the Welsh company."
Ms Hutt said "collaboration" was the answer.
She said: "In north Wales all the local authorities have to work together. They have a single framework for the 21st Century Schools programme.
"That's over £160m we're talking about; that's jobs in the construction industry. Collaboration is the name of the game here in Wales and that's what we expect as a Welsh government."
Plaid Cymru leader Leanne Wood called on the Welsh government to introduce legislation.
She said: "We have been talking about our procurement policy for years and we're still only at 50%. Legislation would lock public spending into our communities. We cannot afford to wait."
The Wales Report is on BBC One Wales on Sunday nights and is also available on the iPlayer.