Leyhill open prison: Escaped prisoners' crime spree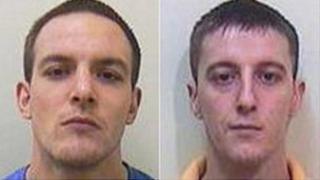 Two inmates who walked out of an open prison and embarked on a month-long crime spree have been jailed for 12 years, and four years eight months.
Liam Aherne, of Markham, Caerphilly, and Stephen Rees, of no fixed address, admitted trying to rob a shop, car-jack a vehicle and attack a man.
They were serving indeterminate sentences for violent crimes at HMP Leyhill open prison, Gloucestershire, which is deemed low risk for prisoners.
They were jailed at Cardiff Crown Court
Aherne, 24, admitted absconding, assault, attempted robbery and attempted theft of a car and was jailed for 12 years.
Rees, 32, was sentenced to four years and eight months after pleading guilty to absconding, attempted robbery and attempted theft.
Aherne had 15 previous court appearances for 37 offences when he was sent to Leyhill. But the court heard he left the prison on impulse after he was refused parole.
Rees joined him because he had grown frustrated by the fact he had not been given any trips outside the prison grounds, added his defence barrister Andrew Jones.
Together they walked out in January and attacked a kebab shop owner 10 days later, kicking Abdullah Adal in the head and face while he was on the floor.
The court heard that Mr Adal still had "really bad nightmares, waking in a cold sweat" and was now too scared to stay in his kebab shop alone.
Four days later both men attempted to rob the Best One Convenience shop in Bargoed, Caerphilly, armed with a claw hammer and a knife.
David Wooler, prosecuting, said: "Aherne grabbed a shop worker with one hand and demanded money as he jabbed him in the head with the knife. His brother was then hit by Rees with the hammer."
Armed with hammer
The court was told the pair fled and tried to hijack a car belonging to a passer-by, but she screamed and they ran off.
They broke into a home on the same day armed with a hammer. Aherne also stole the weekly takings of £5,470 from Markham Miners Welfare Club two weeks later.
Rees gave gave himself up to police but Aherne was arrested in a Cardiff hotel a week later after a month on the run.
After jailing them, the recorder of Cardiff Judge Eleri Rees told them: "You are both dangerous and prepared to carry weapons, using them on anyone that stands in your way. You showed a ruthlessness and a disregard for the injuries you caused."
HM Prison Leyhill is a Category D men's prison which can hold more than 500 inmates.
Prisoners have the keys to their own cell. The prison's farms and gardens also provide work and training for prisoners on a 55-hectare estate.