A&E delays in Welsh hospitals: Patient delays 'double in two years'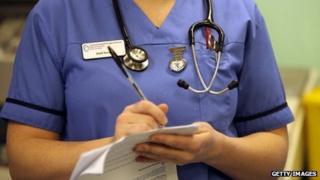 Figures show the number of people who face excessive waits in accident and emergency units in Wales has doubled in the past two years.
Last month more than 5,500 people waited more than eight hours at emergency departments.
The health minister has said patients will be discharged from hospital as soon as possible to release beds.
Mark Drakeford said part of the problem was that Wales had more people over the age of 85 than other places in the UK.
Margaret Thomas, of Llangennech, in Carmarthenshire, said she considers herself lucky to have made it home after her experience.
Life support
She told the BBC Cymru's Newyddion Naw programme that she had to wait hours for an ambulance to transfer her between two hospitals when she suffered pain in her leg.
Mrs Thomas said she had emergency surgery the next day and spent a week on a life-support machine.
"Looking back after I had surgery there was internal bleeding and it could have been more dangerous than they realised because I spent hours waiting at the hospital.
"I'm just glad I've come home as I was so poorly," she added.
Speaking outside Prince Philip Hospital in Llanelli, Emlyn Dole said a relation of his had waited nearly two days before being transferred to a bed from the accident and emergency unit.
'Year-round problem'
"He had pneumonia, and he's had heart problems before, so he was in quite a fragile position.
"We thought he would have been moved onto the ward fairly quickly, but that was not the case."
Brian Hitchman said his 95-year-old mother had waited overnight before being moved to a ward.
"She wasn't the only one," he added.
Gwyneth Thomas, who is an A&E nurse and also a Carmarthenshire county councillor, said it was not uncommon to work a late shift and then to see the same patients when she went in on the early shift the next day.
'Fewer beds'
"They used to say that is was seasonal, a winter crisis, but it happens throughout the year now."
On Tuesday the health minister told the Senedd that over the past six months the demand for these services had risen sharply "in a pattern shaped by an increase in the number of acutely ill older patients attending A&E departments".
"All parts of the UK are experiencing these pressures but Wales has the highest proportion of people aged over 85, and this number is increasing at the fastest rate," he said.
In a bid to improve the situation Mr Drakeford said patients should leave hospital as soon as they can and not continue to occupy beds.
However British Medical Association (BMA) spokesman Dr Dai Samuel said moving patients out of hospital quickly will not work because the infrastructure to care for them is not in place.
"There are fewer beds and they have been reduced before the services in the community have been put in place so that patients can be treated in the community in their homes," he said.