Colwyn Bay Pier: Ownership dispute 'victory'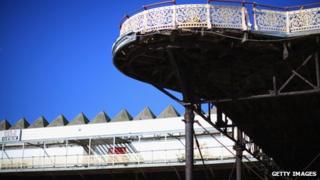 The former owner of Colwyn Bay pier has claimed a legal victory in his fight to get it back.
A high court judge has ruled that part of a court case brought by Steve Hunt must be heard again before ownership can be settled.
But Conwy council, which signed a deal to buy the pier in 2012, says it is pleased that other parts of his claims were rejected.
Mr Hunt previously owned the pier but was made bankrupt in 2008.
It came after a dispute over £5,144.88 in unpaid council tax and business rates.
He claimed the pier should have come back to him in 2011 because it had not been sold to pay off debts.
But Conwy council says the pier was in fact transferred to the Crown Estate and it later signed the deal to buy it.
Mr Hunt had applied to the court for a "vesting order" which would confirm the pier was his.
His mother, Gloria Hunt, also claimed she had an interest in the pier as she had invested half of the money to buy it in 2003.
A judge at Cardiff County Court previously rejected both their applications.
But at the High Court in London, Judge Sir William Blackburne ruled that part of Mr Hunt's case must go back to the court to be reconsidered.
He rejected the appeal by Mr Hunt's mother.
The ruling means that a further court case will be needed before the ownership dispute can be settled.
Colwyn Bay pier was opened in 1901, and has hosted performances from Morecambe and Wise, Elvis Costello, Motorhead and Harry Secombe.
But it has been closed since 2008 and its condition has been getting worse.
'Rival claims'
Conwy council has submitted a bid for money from the Heritage Lottery Fund to restore the pier.
Clwyd West Conservative MP David Jones said he was worried about the effect of delays caused by more court cases.
"I'm very concerned that this issue seems to be dragging on and on," he said.
"While it's dragging on and on, the condition of the pier is getting worse and worse.
"The people of Colwyn Bay are frankly getting heartily sick of it.
"There's a lot that can be done. What the council and Mr Hunt should be doing now is talking to each other and seeing if its possible to negotiate a settlement of their rival claims.
"I find it odd that the council are still apparently refusing to talk to Mr Hunt."
After the case Mr Hunt said he was prepared to "fight on" in court. But he said he was also willing to talk to Conwy council.
"I have always said that there is a constructive way forward to be had with the council," he said.
"I have offered them numerous different ways that we can work together in the past. It's just a case of getting them to sit down and talk to me."
Conwy council said in a statement: "The council is pleased that the judge has dismissed Mrs Hunt's appeal in its entirety, and dismissed Mr Hunt's appeal other than one point, which has been referred back to the original judge.
"It is an important step in the regeneration of Colwyn Bay and the council will continue discussions with the Heritage Lottery Fund regarding the funding application."