Rape investigation: Amethyst unit launched in north Wales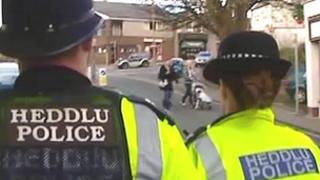 A specialist unit which will deal with rape investigations in north Wales is being launched.
The North Wales Police Amethyst team will work with the Crown Prosecution Service (CPS) and Betsi Cadwaladr health board to gather evidence and support victims.
The creation of the unit follows an increase in rapes and sexual offences.
Six specially trained officers will form part of the team which hopes to result in more victims coming forward.
The team has set five objectives:
provide a good quality of service to victims
improve the investigations
improve the criminal justice outcomes
work smarter and more efficiently with partners
improve the confidence and trust the community have in the way serious sexual offences are investigated
Deputy chief constable Gareth Pritchard said: "Over many years we have striven to improve the service we provide victims of serious sexual offences and the Amethyst team is just part of that on-going holistic approach.
"Improving the well-established relationship we have with our partners in CPS, health and the voluntary sector we are determined to ensure victims receive our full support and guidance through every stage of the criminal justice system.
He added: "Sexual offences are under reported and I'd encourage any victims to come forward - you will be taken seriously, your complaint will be investigated professionally and you will receive the support of trained police officers, crown prosecution lawyers and dedicated counsellors from the health service all whom are core to the Amethyst team."
Public confidence
Det Insp Kelly Isaacs will be leading the team said the service will be provided based on victim needs.
She said: "North Wales Police recognise the unique nature of rape as a crime and are dedicated to providing specialist investigators with skills and training specific to improving the response provided to all victims.
"Any victim of rape aged under 13 years and those under 18 years offended against by family members will be assisted by specialist child abuse investigators within public protection units.
"Victims over 13 years for non-interfamilial offences and all offences where the victim is over 18 will be assisted by Amethyst team staff.
"The provision of the Amethyst team will provide north Wales with a unit dedicated to improving investigation standards involving rape cases.
"It will provide a victim-focused approach for those affected by these types of crimes and it is hoped will increase public confidence in the communities we serve."
North Wales police and crime commissioner Winston Roddick announced plans to set up a specialist rape investigation unit when outlining his priorities for tackling crime in March.
Speaking ahead of Monday's launch, he said he hoped the unit would make victims more confident about making a complaint to the police.
"At present they feel a sense of shame as if they're at fault, that they're the criminals and therefore it becomes a complaint that dare not show its face," he said.
"The first step to overcoming this dreadful crime is to make the complaint and with the new process that North Wales Police the victims can have a better sense of confidence knowing that there is sympathy among the specialist trained police unit to assist them in making the complaint.
"Unless they complain, the criminal will go undetected and unpunished."