GCSEs: MPs warn on separate Wales, England, NI systems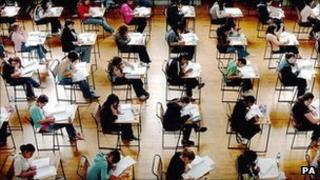 MPs have warned against a rush towards separate school exams systems in Wales, England and Northern Ireland, saying such a move would be "regrettable".
New-look GCSEs for schools in England are to be unveiled, with exams graded from eight to one rather than A* to G.
Wales and Northern Ireland are keeping GCSEs, but so far are not adopting the changes proposed for England.
The education select committee warned against sleep walking into a separation of school qualifications.
Last month the Westminster Education Secretary Michael Gove wrote to his Welsh and Northern Irish counterparts, saying that a splitting of the consensus was a "natural consequence" of devolution.
But the Welsh minister, Leighton Andrews, has emphasised that GCSEs and A-Levels will be retained in Wales.
The decision in Wales follows a review which heard concerns about the quality of GCSE students' abilities at reading, writing and maths.
From 2015, GCSEs in England will move from coursework and continuous assessment to exams at the end of two years.
Pupils will face more rigorous content, with those studying English, for example, having to read a 19th Century novel and a whole Shakespeare play.