Finance Wales' £31m for small and medium firms up 20%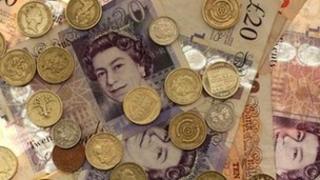 Investment in small and medium firms by the Welsh government's investment bank rose by 20% to £31m in the last year, figures show.
Finance Wales attribute the rise to growing confidence in the economy.
It says demand for micro loans of up to £25,000 doubled between 2012-13 with more people setting up in business.
Officials admit they do not have the financial "firepower" as high street banks but that they are more willing to invest in start-up businesses.
Welsh small and medium enterprises (SMEs) have received £256m from Finance Wales since it was established in 2001.
Prof Dylan Jones-Evans from the University of Wales, who leading a Welsh government review into bank lending and other forms of finance, says there are questions to be asked about the investment bank's exact role in the future.
'Squeezing businesses'
His early findings, including comments about Finance Wales, are due to be submitted to the Economy Minister Edwina Hart over the next week.
Prof Jones-Evans believes Finance Wales has played an important part in helping companies gain access to funding, particularly after the financial crisis in 2008, but he raises questions about its interest rates.
He said: "We've seen rates plummet to historical lows but Finance Wales' interest rates are still about 10.5% on average across all funds but a lot of people have asked me to have a look at this and said if this is a bank wholly owned by the public, why is it squeezing businesses so tight?"
There has been criticism of Finance Wales in recent years, particularly from opposition parties at the Welsh assembly.
The Conservatives have said it is not well known enough and Plaid Cymru wants to create a Bank of Wales that is able to lend to businesses at more competitive rates.
On interest rates, Finance Wales says it is bound by EU state aid rules and as a result cannot replicate the offering of the banks.
It also says it is investing in companies that are too risky for the banks to look at and as a result the higher rates are justified.
Finance Wales new investments fund manager Mike Owen said: "We've continued to invest through the tough economic conditions we've been experiencing since 2008.
"Business confidence has been impacted greatly by a number of factors recently, but I'm pleased that more Welsh SMEs secured investment in 2012-13."