Leighton Andrews drops January A-level exams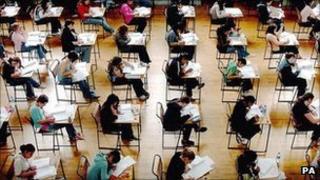 A-level pupils in Wales starting courses next September will no longer be able to sit their exams in January.
Education Minister Leighton Andrews said this would reduce the amount of time spent on assessment and cut costs.
Pupils studying for their A-levels at the moment can opt to sit some of their exams in January instead of the summer.
In England that has been scrapped already and Welsh exam board WJEC said recently that Wales should follow suit for current pupils.
Leighton Andrews rejected that move, but said on Thursday that by getting rid of January exams for next September's cohort, money could be saved and teachers would have more time to prepare for summer exams.
In a written statement, Mr Andrews said: "The review of qualifications found that GCSEs, AS and A-levels are trusted and valued qualifications.
"With suitable and appropriately timed reform, we can ensure that these qualifications are even better and of a standard which is comparable with the rest of the UK and beyond.
"In Wales, our support for GCSEs, AS and A-levels has not wavered and we remain committed to retaining them."
The change comes amid a big shake-up on the way for qualifications in England.
This move may help avert accusations that exams in Wales are less rigorous.
High quality
Welsh Liberal Democrats education spokesman Aled Roberts said a "coherent communication strategy must underpin Welsh qualifications".
"I welcome the fact that we now have some clarity on the way forward for learners in Wales following the publication of the review of qualifications in November last year," added the AM for North Wales.
"However, I am very disappointed that the minister has not yet announced how he will be acting upon recommendation four of the review, which advocated that the Welsh government should 'launch a substantial, long-term, UK-wide communication strategy to promote and explain the qualifications in Wales'.
"Employers, universities, teachers and pupils alike need to know that Welsh qualifications are considered robust and are recognised internationally."
Mr Roberts said GCSEs and A-levels were already a recognised brand, but there was room for improvement to ensure the exams were accepted to be of a high quality.